Making things upgradeable is something that has become a trend in the overall tech industry, as we have been being with smartphones but now, that same sort of upgradeability is coming to desktop computers.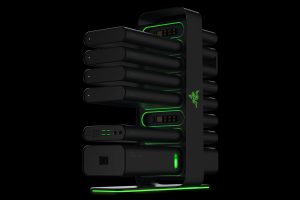 Razer, which usually specializes in PC gaming accessories, has unveiled Project Christine which lays the foundation for a PC that can be easily upgraded as specific components become outdated or no longer work correct.
The concept photos and early images of Project Christine show the PC as something that is quite different from what a usual gaming computer looks like. Instead of all of the components being tangled and hooked together inside of a chassis (computer case), all of the components slide into a vertical case. By sliding the components in and separating them from each other, an upgrade can easily take place later on down the line.
Project Christine is a new concept design that will revolutionize the way users view the traditional PC. This is the first gaming system that is able to keep pace with technology and could allow consumers to never buy another PC, or gaming system, again…We have a history of bringing incredibly innovative concept systems to market and it's fair to say that Project Christine is a very exciting new prospect for future development. – Min-Liang Tan, Razer CEO
Of course, current custom PC builds are upgradeable but doing so with at least some of the components can be difficult. Also, because certain pieces of a computer such as the CPU and motherboard are made to work with each other, it is sometimes impossible to upgrade just one of them without changing the other as well.
All of the components will plug into a central PCI-E system meaning that no matter what you are trying to upgrade, doing so can happen without a hassle.
The one obvious downside of Project Christine is that it appears as though Razer will have to land partnerships with manufacturers so that there are components made specifically for the build.
Summary

: Razer has unveiled Project Christine which is meant to modularize the gaming PC. The project will allow people to easily upgrade components as all of the PC parts will slide into a PCI-E setup.

Image Credit: razerzone