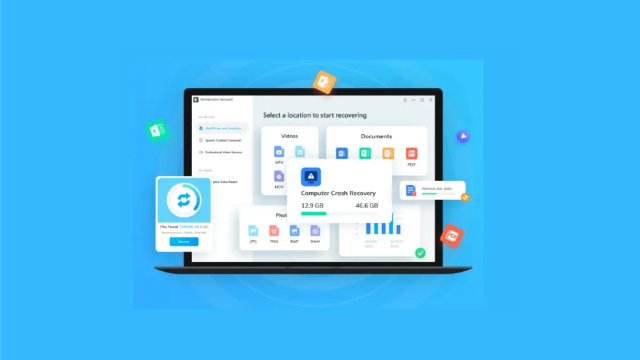 Data loss from memory cards is common, often caused by human error when files are mistakenly deleted, or a memory card is unintentionally formatted. Additionally, physical damage to the memory card or electronic errors can lead to data corruption, rendering the files inaccessible. Such incidents can have dire consequences, especially when the lost data contains cherished memories or critical work-related documents.
In these situations, a reliable and user-friendly data recovery tool becomes indispensable. Wondershare Recoverit, known for its efficiency and ease of use, offers a dedicated solution to retrieve your lost memory card data, giving you a second chance to regain your important files and cherished memories.
Download the best memory card recovery tool to get started!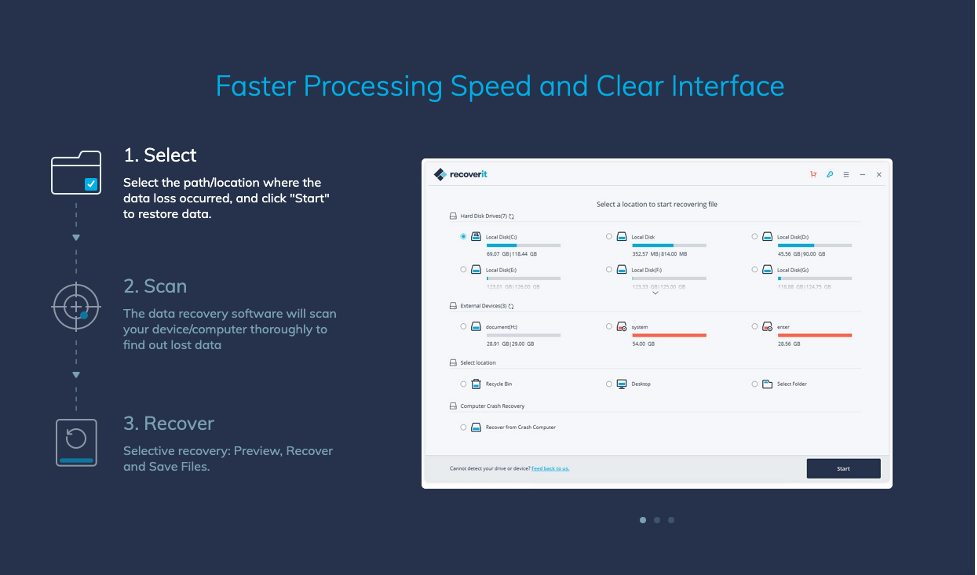 The Importance of Recovering Memory Card Data
Recovering memory card data holds immense importance as these small storage devices often contain critical and personal information. Beyond the cherished photos and videos, memory cards can house vital documents, secret files, and backup information that are integral to our daily lives.
For many individuals, these cards are a safe deposit box, storing passwords, account details, and confidential records that underpin financial transactions, personal security, and professional endeavors. Imagine losing access to these valuable pieces of information. The consequences could be far-reaching, ranging from financial complications to security breaches.
Intriguingly, memory cards are also where some users choose to safeguard backups of their messaging apps like WhatsApp or iCloud backups. These backups encapsulate our conversations, media, and contact information, acting as a digital lifeline to our social connections and digital history. The loss of such data can disrupt communication, erase important conversations, and create gaps in our digital footprint.
Regarding reliable and efficient data recovery solutions, Wondershare Recoverit is a prominent name in data recovery software. Whether you've experienced the heartache of accidental data loss or are seeking a robust tool for memory card recovery, Wondershare Recoverit has got you covered. This versatile software is renowned for its user-friendly interface and comprehensive features that make it a go-to choice for those looking to retrieve lost data from various storage devices, including memory cards and SD cards.
Wondershare Recoverit boasts a range of key features tailored to address memory card data recovery needs. Its deep scan capabilities delve into the nooks and crannies of your memory card, ensuring that no file goes unnoticed. The software supports a wide array of memory card formats, ensuring compatibility with virtually any card you may have.
Additionally, Recoverit provides a preview function, allowing you to selectively recover the files you need, saving you both time and storage space. With its intuitive and straightforward interface, even users with minimal technical expertise can easily navigate the recovery process.
To get an initial idea, find out how data recovery works!
Follow these easy steps after downloading and installing Wondershare Recoverit on your Windows or Mac PC to recover lost or deleted data from a memory card. You may freely scan and preview files using Recoverit.
Step 1: Launch Wondershare Recoverit. Select the SD card, CF card, MMC card, or any other memory card attached to the computer from which you wish to recover data in the Hard Drives and Locations interface. When you choose a memory card, Recoverit does both a Quick and Deep Scan for missing data.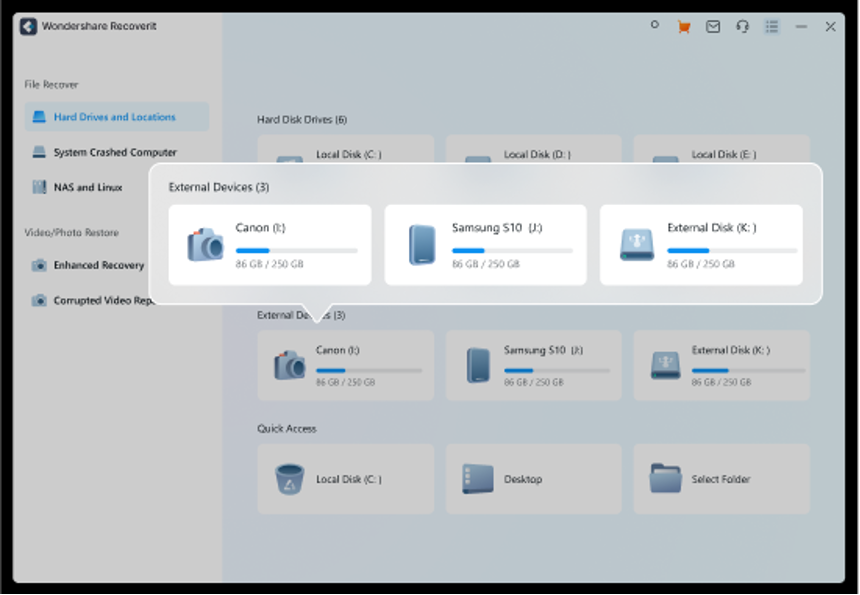 Step 2: Recoverit identifies approximately 1000 distinct file types throughout the scanning process, including various files typically used on memory cards and digital devices, thanks to its extensive recovery library.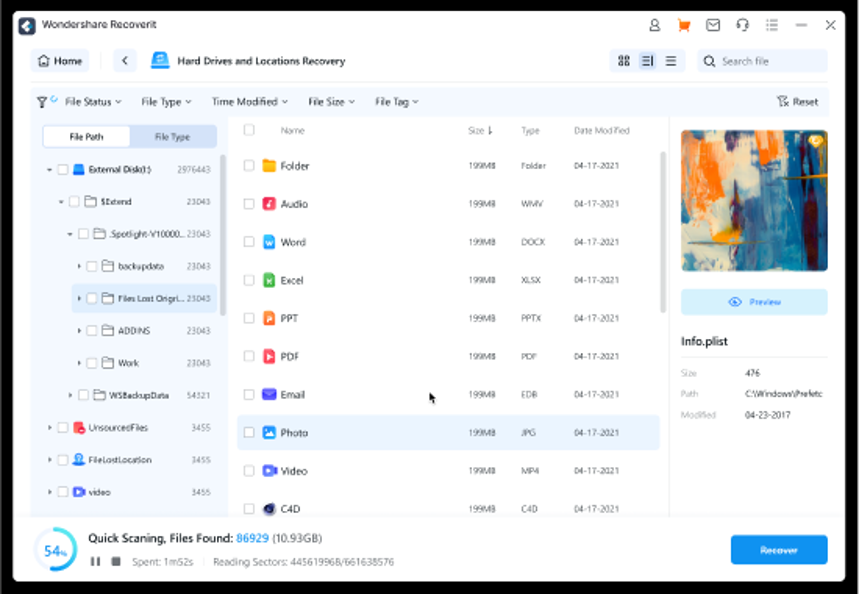 Note: Recoverit supports all popular file formats for previewing. The trial version enables you to preview movies for up to 30 seconds. Furthermore, the preview function automatically restores damaged document files and photos, delivering a pleasant preview experience.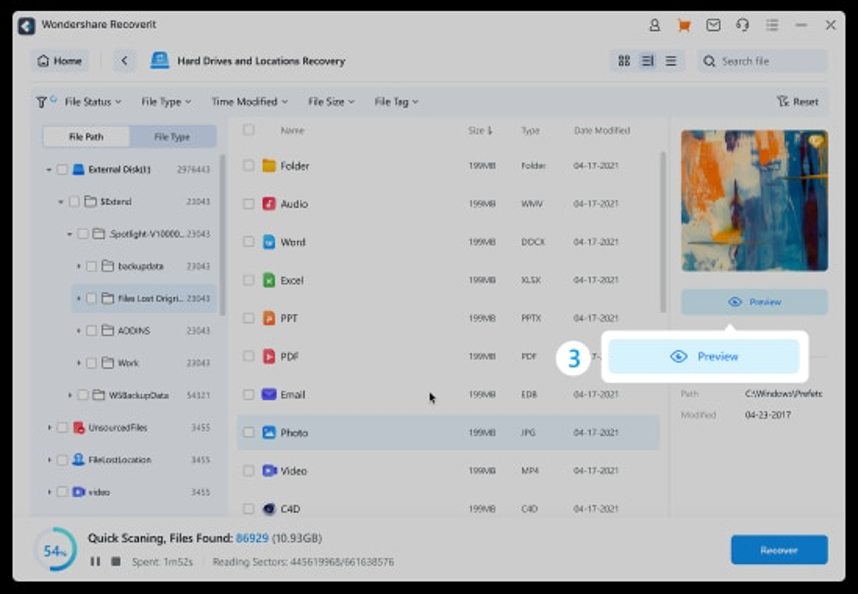 Step 3: Choose the files to be recovered and press the Recover button. Recoverit will allow you to choose a location for storing the restored data.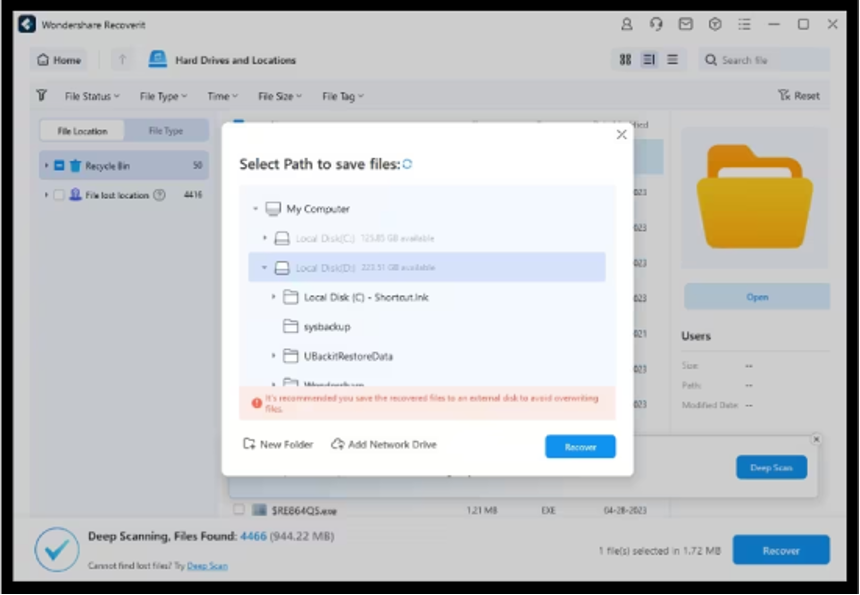 5 Ways to Protect Memory Card Data for the Future
In an age where memory cards are the guardians of our digital memories and critical data, safeguarding them against loss or corruption is paramount. Here are five authentic ways to protect your memory card data for the future:
1. Regular Backups
Establish a routine for backing up your memory card data. Invest in an external hard drive or utilize reputable cloud storage services to create secure copies of your files. Automate the backup process whenever possible to ensure that your data remains current. This strategy provides a safety net in case of accidental deletion or memory card failure, allowing you to recover your valuable data effortlessly.
2. Safe Ejection
Always adhere to the practice of safely ejecting your memory card from devices. Use the built-in software or hardware options to eject the card before physically removing it, whether it's a camera, smartphone, or computer. This step prevents data corruption when files are still in use during removal.
3. Prudent Formatting
Please exercise caution when it comes to formatting your memory card. Format it only when necessary, as this process erases all data on the card. Ensure you choose the correct format settings suitable for your device. Refer to the device's user manual or guidelines for specific instructions to prevent accidental data loss during formatting.
4. Avoid Overfilling
While memory cards offer generous storage space, avoid overfilling them. Leaving some free space on the card allows it to operate efficiently and reduces the risk of file fragmentation or card corruption. Keep track of your card's capacity and consider investing in larger cards if your data needs frequently exceed limits.
5. Protect from Physical Damage
Memory cards are sensitive to physical damage, so handle them with care. Store them in protective cases when not in use to shield them from dust, moisture, and potential bending or breaking. Avoid exposing them to extreme temperatures or magnetic fields, as these factors can lead to irreversible data loss.
Final Words
Memory cards are vital for safeguarding not only our cherished moments but also vital personal and professional information. You can significantly reduce the risk of data loss by adhering to prudent practices such as regular backups, safe ejection, careful formatting, avoiding overfilling, and protecting against physical damage.
However, in the event of unforeseen mishaps, having a robust data recovery solution is essential. That's where Wondershare Recoverit shines; it provides a reliable and user-friendly means to recover lost memory card data, offering peace of mind in knowing that your valuable files are never truly beyond reach.
Click below to download Wondershare Recoverit to recover data from external drives: