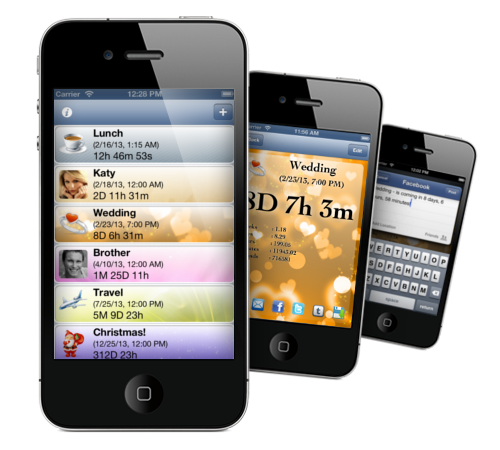 [app url="https://itunes.apple.com/us/app/reminder-countdown-free/id471570365?mt=8″]
Introduction
In our current day and age it's almost impossible to get by without a solid planner. From a simple agenda to the alarms on our phones, it seems we want to get more done in a constantly shorter amount of time. It's true that our days do get hectic and sometimes you just can't have enough organizing tools at your disposal.
Personally I am kind of a messy person by nature—that is to say I kind of get my stuff done in my own personal way. You can imagine it was a great opportunity for me to check out the new app Reminder & Countdown by Sergey Astakhov, which basically lets organize your daily activities in a fun and new way. What did I think about? Read on!
Busy bee
Let me start out by saying that this app feels, looks and does exactly what it promotes. Reminder & Countdown is an app that lets you plan your daily activities, functions as your alarm if you want it to and much more. The really great thing about this app is how you can actually personalize the way you percieve the events listed as there are some options for this.
A quick glance at the app and you'll notice the very dependable and slick interface. There's really nothing too much going on but after all this app is here to help you stay organized, not make your life more hectic by drawing you in with fancy colors and the like. However, it is possible to set your own personal sound for when events occur. These fun little sounds come in handy and remind you of the kind of event that you've got planned and it's a great addition to the app.
There's also another way for you to personalize these events as Reminder & Countdown has a great pletoria of images and backgrounds you can use for your events. Having a night out with your gals? Enhance your pleasure looking forward to it by adding a background of that sweet, delicious beer! You get the idea and you can even use your own pictures for these events. You can also choose your own font for each individual event which helps differentiate between them even more.
What did we think about it
Reminder & Countdown is a really great app and its a lot of fun to use. There's just enough options for it not to become obsolete between all the fancy tools already installed on our current generation smartphones and I do recommend you check it out if you're looking for a new way to plan your events. The app comes in a free and full version, I recommend you buy the full version as the free version does come with ads. This is kind of a bummer when you want to feel professional planning your stuff.
Reminder & Countdown requires iOS 6.0 and is also available for iPad