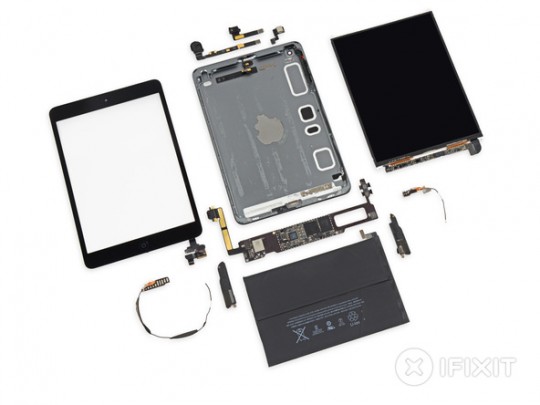 If you thought the Retina iPad Mini would be any different from all the other devices iFixit have torn down over the years then you'd be wrong. iFixit have performed their ritual teardown following the quiet release of the follow up to Apple's popular smaller iPad.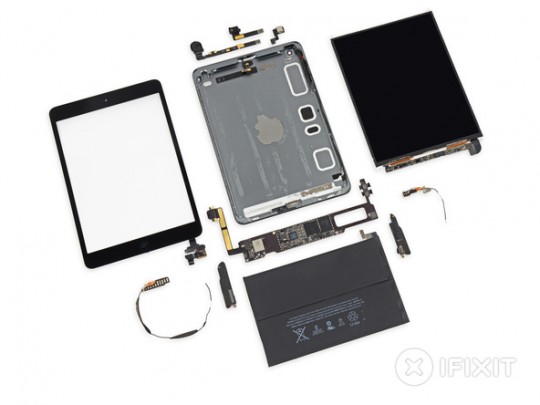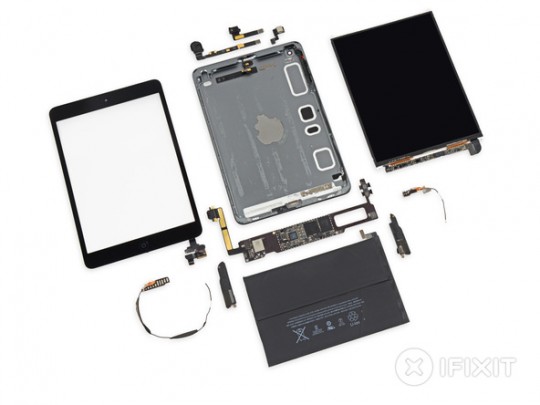 Unsurprisingly perhaps is that it was found the Retina iPad Mini is internally pretty much identical to that of the original iPad Mini, apart from the upgraded components borrowed from the iPad Air and iPhone 5S, such as the A7 and M7 motion coprocessor as well as the Retina display, of course.
Retina iPad Mini Teardown
The A7 chip in the Retina iPad Mini however is clocked at 1.3GHz instead of the 1.4GHz as found in the iPad Air. The NAND storage, Wi-Fi module and audio amplifiers are all identical to those found in the iPad Air.
The Retina iPad Mini screen has a resolution of 2048 x 1536 which mimics the resolution of the iPad Air, but that equates to a substantially higher PPI of 326, compared to the iPad Airs' of 264 PPI.
The new Retina iPad Mini comes with a much larger battery as well in order to cope with that amazing display. Clocking in at 24.3 Whr, it is significantly bigger in comparison to its' predecessors 16.3 Whr battery. It is because of this larger battery that makes the Retina iPad Mini slightly thicker than the original.
iFixit, in true Apple fashion, have given the Retina iPad Mini a repairability score of only 2 out of 10, which isn't exactly surprising since most Apple products are pretty hard to repair due to the various components being glued down.
Check out the full teardown by iFixit in this video here:
httpv://www.youtube.com/watch?v=iVB3ASkov6Q
And as always, let us know your thoughts about the Retina iPad Mini in the comments below. Do you notice the extra thickness of the new model?