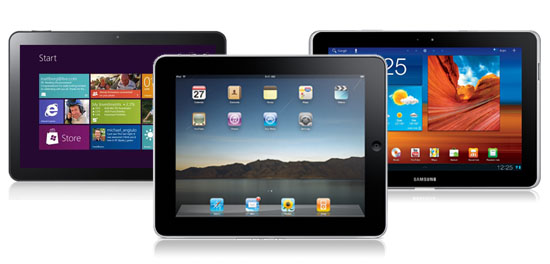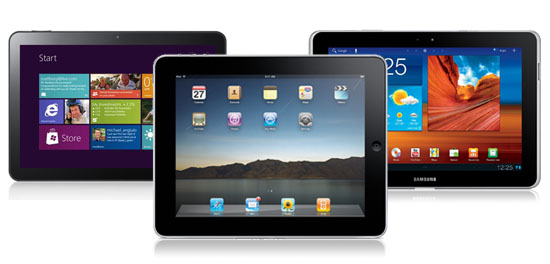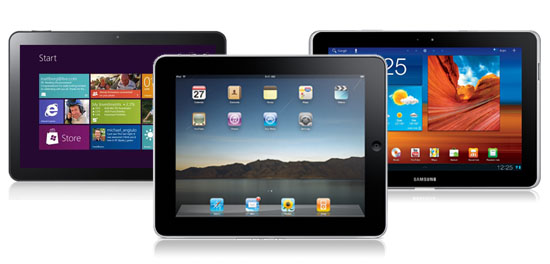 A renowned expert in emerging technologies and tablet computers, author of "Transitioning Embedded Systems to Intelligent Environments" and regular feature in the tech-press, Dr. Satwant Kaur shares with us her views on the revolution in tablet computing and mobile apps.
Q1: You have been hailed as "The First Lady of Emerging Technologies" by Silicon Valley, media, industry and journals worldwide.
Please share with our audience the professional experience that has led to your acknowledgement as distinguished in this new and exciting field?
It all began few years ago when my audience and show producers for Computers2Know called me "First Lady of Emerging Technologies." On that show I was heard live by thousands of live audience on talk radio and my segment was called the "Emerging technologies update from the First Lady of Emerging Technologies."
I was also featured of Image Source Magazine's "Up Close and Personal with Dr. Satwant Kaur." I was also interviewed by CBS, and broadcast on their hundreds of sites with that same distinguished nickname.
I also write the bi-monthly column for IETE Tech Review Journal, and my column is called "Pushing back frontiers with the First Lady of Emerging Technologies"
Intel recently published my book entitled "Transitioning Embedded Systems to Intelligent Environments."
I was the CTO of Emerging Technologies group at TIBCO. Today, I am master solutions architect at HP in the CTO office.
I received my doctorate in mobile IP technologies, a Masters in Science degree in Computer Science and hold a Bachelor of Technology degree in Electrical Engineering.
My professional background includes four patents while at Intel & CA, 20 distinguished awards, numerous keynote conference speeches at IEEE, and over 50 papers and publications, etc.
So, these are some of these reasons that the media, industry worldwide, and Silicon Valley fondly hail me with the distinguished nickname, "The First Lady of Emerging Technologies."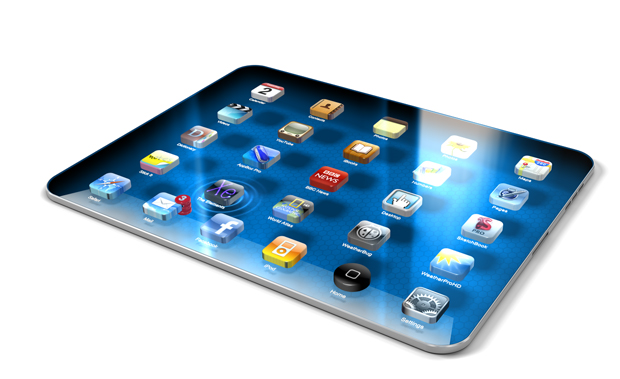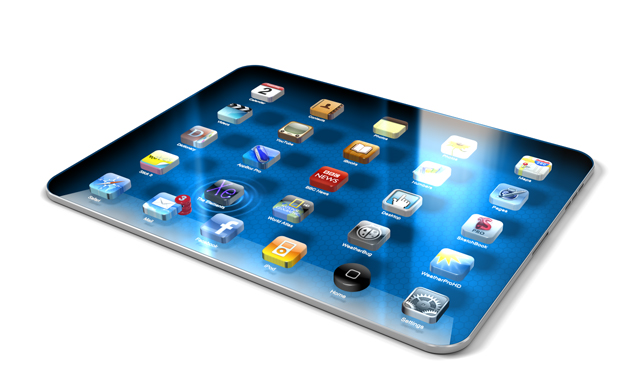 Q2: Tablet's didn't exist 5 years ago, yet today they're one of the most innovative and sought-after electronic devices on the market. What kind of features do you think the next-generation of tablet computers will have?
Recent advances in near-field communication (NFC), image recognition, augmented reality, wireless power transfer would give immense power to Next Generation Tablets as mobile computing devices.
The trend is to enable seamless communication and enhance productivity in a natural manner. These next-generation tablets will be small, portable devices that will give us the best of both worlds, combining the functions of a cell phone and a computer. Although tablet computers will become easier to place in a purse or briefcase, or carry as is, it will provide complete PC functionality and more. Smallness of size will not matter.
Next Generation Tablets will have mobile capabilities far beyond those of traditional computers, such as touch screens, "instant-on" capability, and augmented reality, movement-sensing and location-aware applications.
Tablet computers are also attractive as highly portable and general-purpose front ends for back end devices ranging from embedded systems to powerful data center systems.
Using the flight boarding pass, and placing it next to our tablets, would initiate data transfer and instantly give us complete flight details and status.
Global Travelers can enter U.S. by showing his passport on his Tablet device. Advancements technology takes center stage at every aspect of our lives.
Next Generation Tablets would give us seamless access to the files stored on a home PC, or work PC, over cellular or Wi-Fi networks. Features of future tablet computers are likely to include:
[Display] Next Generation Tablets will transition from LCD/LED in plastic casing to Transparent Glass Displays. It will also allow extended Displays. NG Tablets will allow extending Display to using other home displays such as television or another computer or other screens upon user choice.
[Diverse Form-factor]: Foldable panels that fit one's pocket or any other space the user prefers to have
[Cloud based File Storage] As Internet and mobile data, and online services grow in number and capabilities, user data and preferences live on the cloud not locally.
[Seamless Migration] of Users from one Tablet Device to another: irrespective of device segment or operating system, the user data and preferences are in cloud.
[Gesture and voice recognition] along with intelligent contextual knowledge of local cultures and languages.
[User Location-awareness] Making tablets location-aware with GPS like apps allows the information to be better served and locally relevant.
[Wireless Charging] Wireless Internet and near-field communication are future and will make chargers and cords irrelevant.
[Tougher casing] and resistant to a fall or a dip in the water,
[Bottomless battery life] due to wireless power transfer from ambient surroundings
[Universal standardized port] to include all peripherals: USB, SD Card, audio and HD video
3D camera for a variety of new apps such as medical scanning and imaging
[Multiple scanners]: Magnetic Stripe Reader (MSR) and Barcode Scanner (BCS) and medical imaging scanners
[Flash memory solid-state storage drives] Tablets can have storage drives or on-board flash memory instead of hard disks with moving parts. Solid-state memory has better resistance to damage during movement.
[Multiple Communications Protocols] 3G mobile telephony capabilities; Wireless or Wi-Fi connectivity is used for communication between tablets. Bluetooth is used for connecting peripherals and communicating with local devices in place of a wired USB connection.
[OS] Tablets will comes a variety of OS such as Windows 8 from Microsoft, or Android from Google, or iOS from Apple, as well as Unix-like OS, such as Darwin, Linux or QNX
[Instant on] warm-boot
[Handwriting recognition] with stylus.
[System Architecture] for Tablets will include both x86 and ARM architecture
[Reading Device] Amazon Kindle like dedicated reading device functionality
[Lighter Weight] Lighter weight, lower power tablet computers will enhance use as a truly mobile device
[Capacitive contact screens] can sense even light finger on the screen. Touchscreen hardware is enhanced with multi-touch capacitive touch screens
[Multi-Touch] abilities can recognize multiple simultaneous finger touches, allowing for easy navigation and enhanced manipulation of on-screen objects.
[Small Screen]: Although large screen sizes are more convenient, they add weight to Tablet PCs and need more power, and hence shorter battery life. Thus smaller form factor is optimal for the power, size and weight considerations needed for portability.
Next Generation Tablets are replacing computers as computing devices.  They are also replacing cell phones as a means of broader telecommunications. They are replacing information sources such as newspapers and books as means of knowledge and content.
Tablet computers are replacing other mobile devices such as PDAs, smartphones, as a means of remote access to various emails, contacts, calendars, productivity. They are replacing larger screens and better interfaces for even social networking users.
So, the trend for tablet computers is to bring us the capabilities of a full computer running a desktop-like operating system, but in a smaller mobile format. Because of this, today's tablets serve multiple functions for multiple consumers and enterprises, such as being the e-book when we want to read, being the Internet devices when we want to surf web, and being the TV when we seek entertainment seeker.
The trend is for it to be a full-fledged enterprise computer without a keyboard and allow running enterprise business functions from them.
Q3: Apple currently dominates the tablet market with the hugely successful iPad – do you see this trend continuing, or do you think that other manufacturers will be able to gain traction?
While Apple iPad based on its iOS, seemingly led the tablet segment initially, now other manufacturers such as Microsoft and Google have come up and continue to come up with very strong tablet offerings. Google Nexus 7 is a hit.
There are different categories of OS on tablets computers. Tablets use either PC OS in modified form; or use the smart phone OS and modify that for tablets; or modify a new open source OS for tablets.
Different tablet computers have different specialized operating systems. For example:
Android Tablets have Google's open-source Android operating system, such as Honeycomb which is a dedicated Tablet operating system.
Kindle Fire and Nook Tablets have an operating system called Android Ice Cream Sandwich 4.0, as well as quad-core processors and high resolution screens.
Microsoft Windows 8 operating system is a touch-friendly, no keyboard or mouse, necessary interface that was designed from the ground up to run on Tablet computers.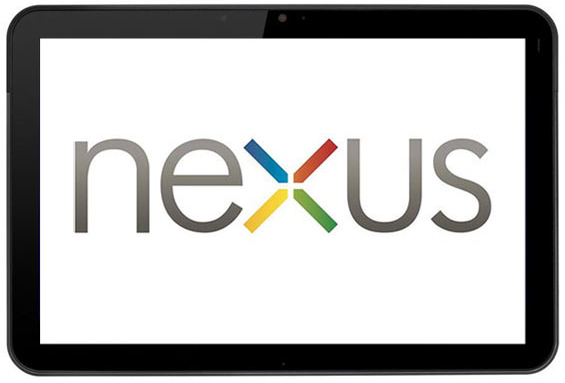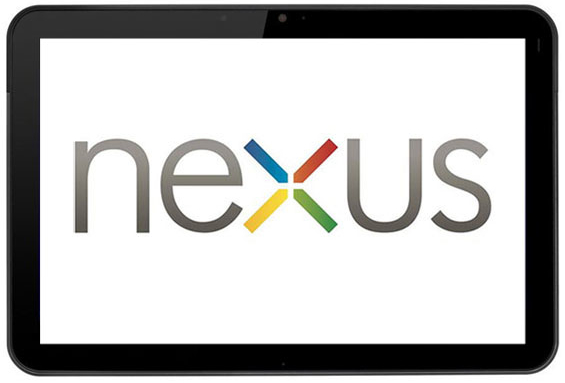 The challenge to Apple iPad includes Android-based tablets as well as Windows 8 based tablets.
iOS: Apple's iOS is the operating system that runs on the iPad, iPhone, and iPod Touch. Its hardware and software features make it ideal for media playback and games. It has tablet-optimized apps, multi-touch support, parental security options and over-the-air app updates. It allows seamless integration with other Apple products such as Apple TV. However iOS only runs on Apple hardware. The users must buy software from Apple and it is not compatible with Adobe Flash.
Microsoft's Windows operating system runs on slates, convertible laptops, UMPCs, and MIDs. Windows-based tablets are selling very well. Windows 8 is a Windows-based tablets similar to their Android and iOS. It has benefit of familiar windows interface, multi tasking, and a broad range of supported software and hardware. Also compatible with Adobe Flash support. However it has longer boot times and is more vulnerable to computer viruses.
Google's Android operating system: Android is yet another challenger to takes Apple's iOS for Tablet PCs. It supports lightweight, large variety of third-party apps. It provides natural native integration with Google's Web-based services such as search, maps, e-mail, etc. However performance and content for media and gaming is less than iOS.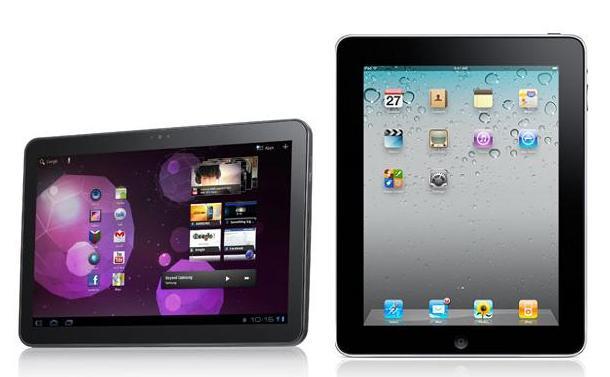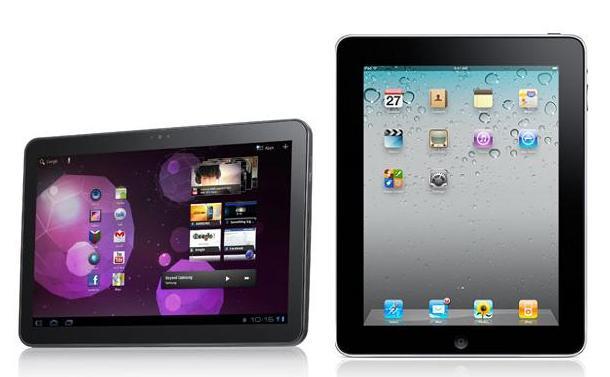 Tablet computers are a portable personal computer equipped with a touchscreen as a primary input device, and running a full-fledged desktop OS. Tablet PCs are ideal devices for users who need mobile computing; and the cell phone and PDA is too small, and like the virtual keyboard operations of a flat touch screen.
Next-Gen tablet computers include many non iOS versions, such as:
Samsung 5.3-inch Galaxy Note has stylus-sporting Android Tablet
Samsung Galaxy Tab 7.7 with Android Ice Cream Sandwich
Windows Tablets are ARM-based tablets running a pre-build of Windows 8 as well as on ARM architecture
Lenovo IdeaPad S2 Hybrid Tablet is a 10 inch tablet that converts into a laptop when snapped into its keyboard/ dock; weighs 1.27 pounds
Vizio Tablet comes with 10 inch screen and runs Android Ice Cream Cone
Asus has Hi-Res Display for Transformer Table on Android Tablet w/10 inch display
Acer's Iconia Tab A200 Tablet comes with Android
4.0 – Ice Cream Sandwich
iPad 4 with iOS operating system will be thinner, lighter, faster processor, retina screen, Suri and possible face recognition
Amazon's Kindle Fire and Barnes & Noble's Nook Tablet have way to read and watch content from Amazon; the Nook is a an excellent e-reader
Samsung Sliding PC7 Series has sliding screen. It's a tablet with Intel Atom hardware.
Its sliding screen allows it to be used as a laptop or slate tablet when the screen is locked
Lenovo X61 in slate mode
Tablet PCs which run Microsoft Windows are Acer, Lenovo Group, and Toshiba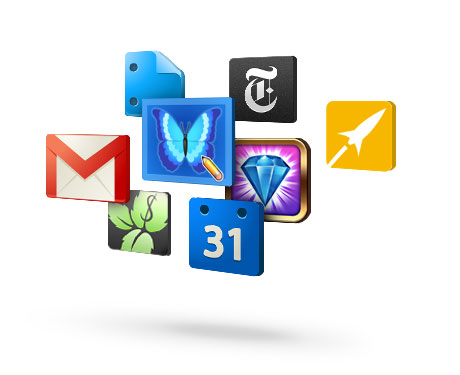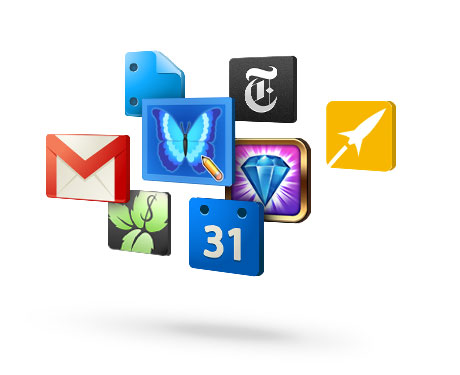 Q4: Apps are revolutionizing the consumer electronics market, and tablets have been a central part of that. What do you see as the big trends that will develop in apps over the next five years?
Today, apps are everywhere. Mobile apps are software applications that run on smartphones and tablet computers. The primary tablet platforms on which most popular Apps reside are Apple iOS, Google Android, and RIM's Blackberry platform. Due to their mobile nature, Apps have found applications in every area of our life.
Technology breakthroughs such as availability of greater bandwidth, powerful devices with rich image and video content technologies, have enabled mobile apps real time delivery of rich content "Any Time, Any Where."
Today, more than a million apps are available, and have been downloaded more than a billion times. Apps are widespread in a variety of uses in a variety of fields.
[HEALTH CARE APPS] In Healthcare, the need for expedited information is critical to human life. Thus, there are new healthcare related Apps for doctors & patients that run on their hand held smart mobile devices such as iPads and Androids. These apps include reference apps, educational apps, EMR & patient monitoring apps, imaging apps, point of care apps for doctors.
Personal care apps for patients. Point of care is Apps for physicians to use with patients at the bed side. Examples include DrawMD; Urology and iSpineCare.
The EMR & patient monitoring group of Apps include Cerner's Physician Express, Epic's Haiku, GE's CA Mobile, DrChrono, and many more.
Personal care Apps such as Diabetes Buddy are a means to help care providers recommend popular health apps to their patients.
[PRODUCTIVITY APPS]: Mobile apps are powerful for productivity such as email, calendar and contact databases.
[CONSUMER APPS] GPS, location-based services, banking
[FACTORY AUTOMATION APPS]: Organizations can streamline operations and decrease cost by using real time inventory management apps and assembly line apps such as order tracking into in their business processes.
[ENTERPRISE APPS] Mobile apps and mobile web experiences are suited for all business processes and are resulting in a mobile workforce. Some Examples:
Sales enablement apps for field sales.
Insurance apps for mobile claims.
Mobile apps for police and city maintenance
[SUMMARY]: Mobile Browsers are out. Mobile Apps are in.
Marketing content used be directed to the consumers in their mobile devices, through mobile web. Mobile web is the trimmed version of web sites for mobile devices and always being on line was a requirement.
Now it is the Mobile Apps that are replacing mobile web, and taking the device away from being just a platform for a browsing device.
Users don't have to depend on a web browser to use mobile apps.
Companies like Google App engine, Amazon Web Services and Salesforce's Force.com are releasing more and more of their apps in mobile apps formats.
Users can directly get to the mobile apps with just an access to the internet. Apps allow browser less access to website.  By eliminating the browser, it is the network that becomes the medium. Users need only a Wi-Fi or 3G/4G connection for their apps to work.
Mobile apps become more intuitive and simpler to use. They enrich our "technology-enhanced" lives!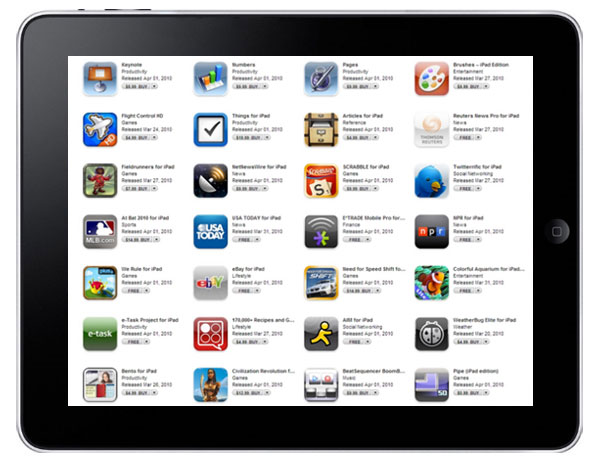 Q5: What role do you believe that apps will play in the revolution of the tablet computer?
Today's, mobile technologies are useful only in a combination of mobile devices and the mobile apps. The widespread availability of apps for every tablet device people have in their hands, have enabled new multi-media, mass market, and mass entertainment platforms.
So, the major reason behind the unprecedented growth of the tablet computer would be the growth of mobile apps that will become available on it. These apps on people mobile tablet will replace the web browsing access to software applications form Smart Phones or local desktop or laptop access to software applications.
[ROLE OF APPS AVAILABLE FROM STORES] The sheer simplicity and variety of apps from app stores is bringing about the revolution of tablet computers. App stores provide centralized catalogues of software and allow simple "one click" on-device software purchasing, installation & updates on tablets. Mobile Apps are available at application distribution platforms below. Apps are then downloaded to a target device such as an iPhone, BlackBerry, or Android phone.
Apple App Store
Android Market
BlackBerry App World
[ROLE OF APPS AS CONTENT ENABLERS]: Tablet computers are the becoming the content destination for major marketing and product information. Several technology trends have contributed to the rise of Mobile Apps as an effective tool for companies to market products in their palms using TABLETs. These include:
Web has become the accepted platform for application and business process development
Corporate IT has accepted access to business applications for workforce and partners in ecosystem
Mobile web browsing has been accepted as the replacement to older traditional desktop browsing
Business information has moved from the desktop and onto the mobile devices
[ROLE OF OTHER EMERGING TECHNOLOGIES]: Upcoming trends that will grow the use of Apps on tablet computers even more:
Mobile apps have enabled richer experiences for end users, since it utilizes Offline Application Cache and Offline interaction at the user mobile device end for boosting performance
HTML5 enables the web as a common development platform for all mobile browser-equipped devices.
Augmented reality technologies combine the real world with digital information, giving mobile users the feeling that they are interacting with real objects in real time. Augmented reality apps are used in a varied of applications from GPS systems, fitness apps and more recently haptic and tactile feedback using a sense of touch. Haptic technology allows users to feel their apps on the touchscreen by manipulating an electric field. With haptic technology, users will now be able to feel bumps and ridges, and roughness of objects.
Android Google's standard Open Source OS works across all devices from smart phones to 46-inch Samsung TV's.
[Role of Mobile Technology Enablers]
Delivery of Rich content in a convenient format in tablets by Apps is also fueled with following technology trends:
Mobile touchscreen devices now cost much less, and are more readily available
Mobile devices have become smaller and multi-functional
There have been growth in mobile broadband for communication purposes
Growth in data-enabled smart phones including iPhone, Android phones and the Blackberry.
As a result, mobile devices with their apps fulfill most communication needs of an individual.  Thus we see transformation of mobile tablets as a primary communication system.
Mobile tablets with mobile apps on them, will be used to provide newer services and technologies in the new world of people with mobile tablets and their favorite apps. Businesses use them for sales of various functions including education, the hospitality industry and hospital and healthcare facilities.
Apps are ubiquitous software applications that reside on tablets. These apps bequeath the ubiquity of the tablet computers upon which they reside. Now mobile devices and apps have become intimate part of our lives as virtual personal assistants.

Q6: What are your favorite apps right now, and why?
Apps are mobile software that run on the mobile operating system used in cell phones, tablets and other mobile devices. There are many popular Apps in a variety of areas such as:
Books Apps, such as: Comics, Cars 2 Storybook Deluxe
Education Apps, such as: Star Walk, Proloquo2Go, Inkling
Finance Apps, such as: MarketWatch, Market Data, Stock Genie
Healthcare & Fitness Apps: Men's Health Magazine, SELF Magazine
Medical Apps: Visible Body 3D Human Anatomy, modalityBODY
Navigation Apps: WingX Pro7 Aviation, iNavX Marine Navigation
Photography Apps: iMovie, Snapseed
Reference Apps: BibleReader, World Atlas HD
Business Apps: Splashtop Remote Desktop
News Apps: The Daily, New York Post, The New Yorker Magazine
Travel Apps, such as: FlightTrack, ZAGAT TO GO
Weather Apps: ForeFlight Mobile Aviation, Weather+
Here are my top ten favorite Apps:
#1: My favorite payment apps is Google Wallet, which is a virtual wallet to store payment information securely and makes paying fast both in-store and online by tapping the Google Wallet.
#2: Google Voice is a great app to manage voicemail and SMS messages. It is also possible to porting existing numbers to Google Voice.
#3:  My favorite File management apps is Google Drive that store and sync files giving access to the Google Docs on the go and also allows offline document editing.
#4: Social Networking App, namely for Google+
#5:  My favorite Web mail app is Gmail
#6: My favorite Security App is Webroot Mobile Security which includes secure web browsing that automatically scans web links and URLs to block phishing and other malicious sites. The app also includes remote access, SIM card lock, device lock and wipe, SMS blocking, and an antivirus tool that continuously scans and monitors your phone.
#7: To watch my favorite science fiction shows on my instant queue from shows anywhere, my favorite app is Netflix. Netflix Instant allows streaming video anywhere over Wi-Fi or 3G. It has a massive catalog to browse from
#8: My favorite financial apps is Mint.com to know all transactions in all my different all pockets and to check net worth at a click, plus to monitor my spending against my budget on a daily basis.
#9:  My favorite browser apps on mobile devices is Chrome. It is my favorite browser for desktop. And it is also my favorite app for mobile devices.
#10: My favorite apps for location awareness is Street View in Google Maps Street View. It allows user a view of Google's Maps from the street-level perspective as 360-degree images. It can help find stores, and parks that might not be listed in the map itself.