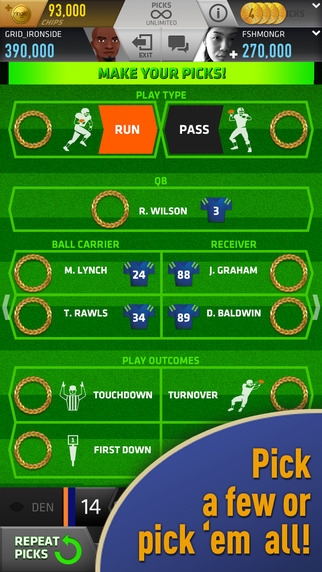 Developed by iPro, ringit! Pro is a real-time sports prediction app for NFL enthusiasts. Letting you make play-by-play predictions about the game as you watch it, ringit! Pro is next-level Fantasy Football available for both iOS and Android.
For those people who are really into their Fantasy Leagues, you'd know that making the right picks is critical. But Fantasy Football plays out over days, weeks and months – ringit! Pro plays out over seconds.
This game puts you in the coaches seat, predicting the next play during live NFL games (note: you need to be watching a live game to play ringit!).
The app has a simple interface – you just tap a 'gold ring' to make a pick, then choose an amount to wager.
There are 4 different types of picks – Quick Picks, Action Picks (i.e. run, pass, yards gained on the play, first down), PlayerPicks (individual player performance) and Prop Picks (various items, such as winning team). As long as there is a gold ring next to an option, you can make a pick. The only thing you're limited by is time!
All players start with an equal stack of chips. Multipliers determine how much you can make from a pick. Watch the game, track your picks and monitor your wins! The more you risk, the more you can make – and the player with the most chips at the end of the game is the winner.
ringit! Pro requires iOS 7.0 or later. Compatible with iPhone, iPad, and iPod touch.