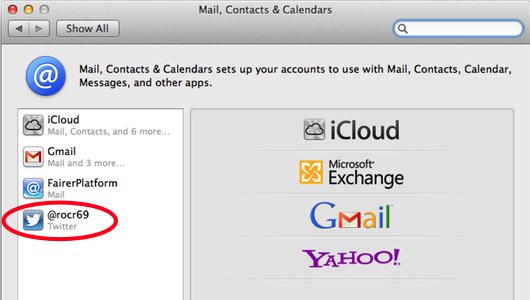 Apple has offered tight Twitter integration on the iPhone and iPad since 2011 and the company's just released OS X Mountain Lion likewise includes system-level. For its part, Twitter has assigned a vice president full-time to work with Apple, an indication of how much the social network values Cupertino.
Needless to say, Apple and Twitter are already buddies. Though the two probably won't start sharing a toothbrush just yet, Apple may be getting ready to take the relationship to the next level.
New York Times, citing only "people briefed on the matter," claims that Apple has or is considering investing hundreds of millions in Twitter, which could result in the social networker being valued at more than $10 billion.
"Those guys are a great partner," said Twitter CEO Dick Costolo in a recent interview. "We think of them as a company that our company looks up to."
The odd twist in this story is that earlier this year Costolo said Twitter has "truckloads of money in the bank," so they're not exactly in need of more.
However, Twitter didn't come by that cash the old-fashioned — they didn't earn it per se. Further, Apple's only social media play, iTunes Ping, was an abject failure and is expected to shutdown later this year.
"Apple doesn't have to own a social network," said Tim Cook this year's All Things D conference. "But does Apple need to be social? Yes."
So, will Apple be investing in Twitter or not?