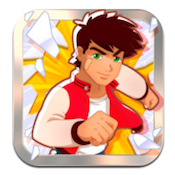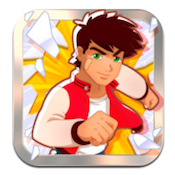 Price: FREE Score: 9/10 Category: Games
RunSanity is an iPhone game developed byHeliceum. This social, competitve app takes the mobile running genre to the next level.
After you tackle the tutorial and learn the controls, you can progress to the main game. RunSanity features three main game modes: Arcade, Story, and Challenge. While Arcade and Story modes are pretty fun (especially given the wacky storyline and fun animated sequences revealed in Story mode), the real winner here is the Challenge mode.
In RunSanity's Challenge mode, you actually get to challenge your friends. Pick a character, a track and a Facebook friend, and start your run. Get the highest score you possibly can. Then, your race "ghost" is automatically sent to your Facebook friend, who will then run against your character. There's even a global leaderboard where you can see how you stack up against people from around the world.
There are five playable characters, each of which has a unique set of stats and their own outfits that you can collect. The game has a fun, youthful vibe, and it's one of the best sidescrolling 2-D runners I've played all year. If you're bored with Temple Run, shake things up and try out RunSanity, which has a way more robust system of combos and tricks you can perform.
The latest version of RunSanity is Version 1.0.4, which added a ton of new content. There's now a chat function in challenge mode, a music pack with cool new costumes, a new shield power-up, a new chapter with 10 levels, and more.
Whether you're a casual gamer or a seasoned pro who loves scoring big combos and sick tricks, the running fun of RunSanity is sure to appeal to you. It's got a great soundtrack, cool graphics, a great story, and (my favorite feature) Challenge mode with Facebook!
RunSanityis compatible with iPhone, iPod touch, and iPad. Requires iOS 4.3 or later. This app is optimized for iPhone 5.