We've known that the Samsung Galaxy Note 2 was heading to all major US carriers for a while now but it wasn't until October 9 that T-Mobile made an official announcement regarding the 5.5-inch device and their upcoming fall release plans.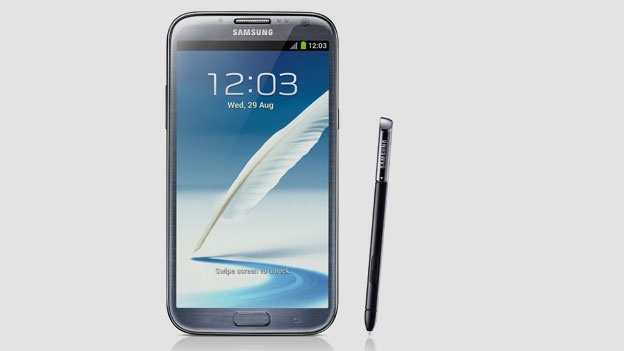 T-Mobile is calling the Samsung Galaxy Note 2 the most powerful device in their line-up. With a 3100 mAh battery, 1.6 GHz quad-core processor and the latest version of Android powering it, that claim's pretty accurate. The press release reveals that the device will be available in two colored variants — Titanium Gray and Marble White. T-Mobile's version of the Samsung Galaxy Note 2 will also come pre-loaded with exclusive gaming content:
"Only T-Mobile Galaxy Note II customers will have access to an exciting new racing game preloaded on the device, which will include three free levels. In addition, T-Mobile's exclusive version of the racing game will be optimized to interact with a MOGA™ Mobile Gaming System, bringing an immersive, console-quality gaming experience to the palms of T-Mobile customers' hands."
What's disappointing about the press release though is that it's pretty vague regarding pricing and availability. Fortunately, the guys at Phandroidwere able to get their hands on a T-Mobile internal memo that sheds a few more details about the carrier's plans for the device: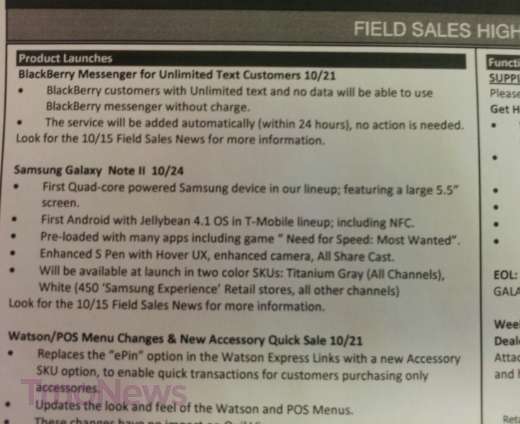 The document seems to corroborate previous information that the Samsung Galaxy Note 2 will be launching in the US on October 24. So mark your calendars if you've got your eye on this device.
Will you be getting the Samsung Galaxy Note 2 via T-Mobile? Let us know in the comments below!