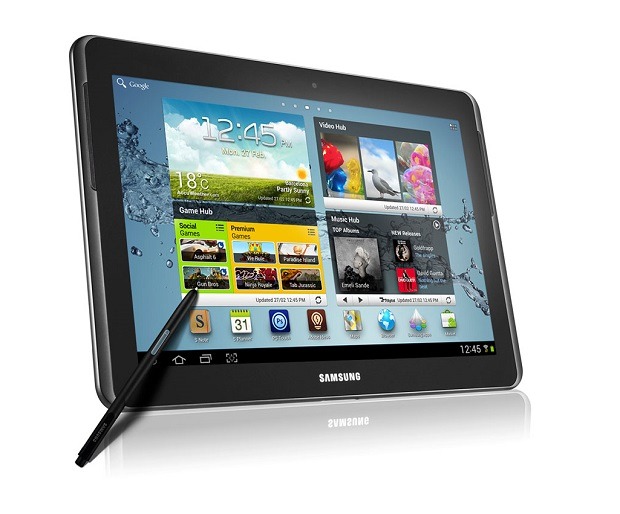 Is the Galaxy Note II too small and the Galaxy Note 10.1 too big? Samsung could be preparing an eight-inch Note tablet for MWC 2013, in the coming weeks, just for you.
With the movement to seven/eight-inch tablets starting to happen, we suspect Samsung want to get a slice of the action. The iPad Mini is already seeing incredible sales, and so is the Kindle Fire and Nexus 7.
Samsung could be going for the "family" idea, by releasing the Galaxy Note III, Galaxy Note 8.0 and Galaxy Note 10.1 (newer version) at MWC. This tactic was used by Google with the Nexus family and has paid off for them. Of course they could just finish off the family and not release anything else apart from the Note 8.0.
The Note 8.0 will have a 1280×800 Super Clear LCD display, the same as the Nexus 7 and Kindle Fire HD. Samsung seems to be edging more towards iPad Mini territory with the eight-inch screen, the Note 8.0 has higher resolution than the Mini.
Other specs include a quad-core 1.5GHz processor, 2GB of RAM and 16GB, 32GB and 64GB storage options. The Note 8.0 will have a 4,600-mAh battery. The tablet will also come with a 5MP rear shooter and a 1.3MP front shooter.
We are unsure if Samsung will fit 4G technology on this tablet, the iPad Mini comes with a 4G option but the Nexus 7 and Kindle Fire HD don't. Samsung may try to rival the iPad Mini on every front, this includes connectivity.
Software wise, we expect the Note 8.0 to run Jelly Bean under the thick TouchWiz skin. The usual S-Pen will make an appearance on this tablet if released.
We suspect that Samsung have some awesome devices to show off at MWC as they always do. Their CES show was incredible and Samsung really wanted to show their dominance in electronics, now its time for them to show off their new mobile devices.