Samsung is reportedly gearing up to release a new Windows Phone device on Verizon in April. The Ativ SE will be released with Windows Phone 8 rather than 8.1, according to The Verge's sources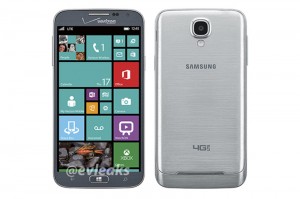 Rather than waiting around for Microsoft to officially announce the 8.1 update, Samsung is releasing the phone and will allow it to be updated once the new software is made available.
Evleaks provided images of the new handset early in February, at that time, the render showed Verizon branding but also seemed to promise Windows Phone 8.1. A few things may have changed, but the Verizon branding and general design of the phone remains the same.
According to The Verge, the Ativ SE will include a 5-inch 1080p display, 13-megapixel camera, Snapdragon 800 processor, 2GB of RAM, and 16GB of storage.
Just like the flagship Galaxy S4 and now the S5, Samsung will include a MicroSD slot in the phone, so if you need more storage, it will be expandable up to 64GB (most likely.)
The latest renders also show a device that has one primary "home" button that is physical, whereas the two buttons next to it are touch-sensitive.
Other Windows Phone handsets are rumored to be coming out with only touch-based buttons, but Samsung has seemingly chosen to go with a mix of the two. As with Android-based Samsung phones, at least one physical button is an aspect of the device that many consumers like.
According to a variety of sources, Windows 8.1 is set to come out on April 23 and developers have had access to it since March 26. Considering how close the 8.1 release is to the Ativ SE launch, it is likely that the phone will effectively launch with the latest version of Microsoft's mobile operating system.
More details regarding 8.1 may come this week since Microsoft BUILD takes place on Wednesday.
Question – Are you interested in a Samsung Windows Phone handset or is Android better?
Summary

: New details have come out regarding the Samsung Ativ SE, a Windows Phone handset. It will reportedly be released on Verizon in April and will initially ship with Windows Phone 8.

image credit: evleaks