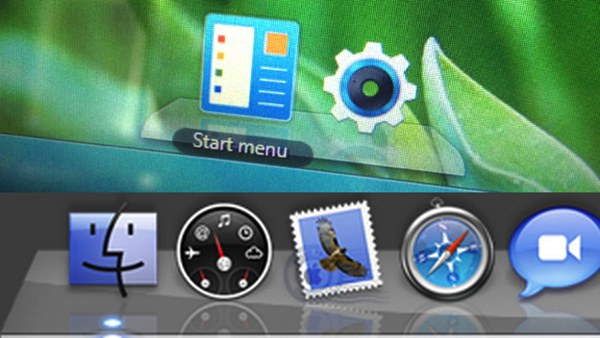 There is an existing injunction blocking sales of the Galaxy Tab in the US because Samsung rips off the iPad. Just last week Apple just won a $1 billion patent judgement against the Korean consumer electronics giant, which could result in a slew of Samsung devices getting banned. Has any of this chastened them? Nope — Apple vs. Samsung forever!
Even the most dull witted, Apple-hating fandroid will confess the Samsung Galaxy S is a pretty damned close copy of the iPhone, both inside and out. Ditto that for Samsung's retail stores, which bear more than a passing resemblance to the Apple Store.
There are, of course, other examples, but the latest offense to get the internet's collective knickers in a twist is Samsung's S-Launcher, which — hey — looks quite a bit like the Dock in Apple's Mac OS X (image above).
"The problem is that the S-Launcher works exactly the same as Mac OS X Dock," writes WinAndMac.com. "Users can drag-and-drop their Windows apps as a shortcuts to S-Launcher, and tossing them off when they are not needed."
The similarities are more than just functional as Samsung has copied the OS X Dock's app icon reflections, translucence and shadowing.
Sigh…
That said, although it hasn't formally shipped yet, Windows 8 has been variously described as a disaster and a steaming pile of Microsoft a la Vista, and S-Launcher is part of Samsung's skin for the operating system, a skin designed to save Windows 8 from itself.
How's that gonna work out? Apple vs. Samsung forever, baby! Sigh…
What's your take?