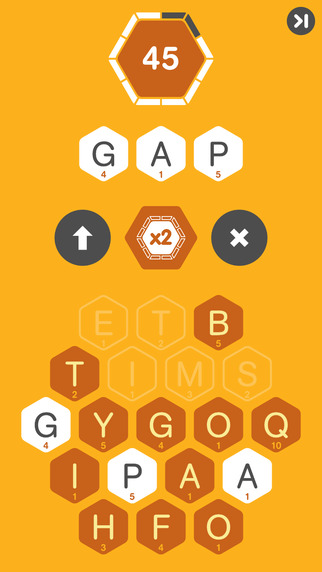 Published by Light Pillar, Scribo is a fast-paced and fun 'Head to Head Word Challenge' game for iOS devices.
In a similar vein to Words with Friends, the objective of Scribo is to make the highest-scoring words you can within the time limit. The thing that makes Scribo interesting is that letters don't regenerate and this is not a case of make as many words as you can, it's about big words and playing strategically.
The playing board has 19 letters, each which can only be used once unless you have a special Trump card. Trump cards give you special advantages like score multipliers, resurrecting used letters, extra points for certain letters, freezing game time and more. You choose your Trump card before starting a match – simply tap on it to select.
During the game, tap the letter tiles on the playing board to spell different words. If you make a mistake whilst playing you just tap a letter again to remove it. When you've spelt out your word, tap the arrow button to score it or the 'X' to scrap it and start again.
The game requires that you sign-up via email or Facebook and whilst you can play with randoms, you can also invite friends to join you on Scribo via a simple 'Send Invitation' button in the app.
A unique take on the word game genre, Scribo provides for fast turn-based head-to-head action. The limitation to just 19 letters, a short time limit and trump cards means that this game does more than many in the category.
Scribo is a well-polished game with intuitive controls, simple visuals and an addictive mechanic. It's a free download and well worth a look.
Scribo requires iOS 8.0 or later. Compatible with iPhone, iPad, and iPod touch.