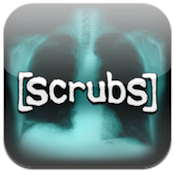 Price: $0.99 (currently on sale for Black Friday at 70 percent off!) Score: 9/10 Category: Games
Scrubs, developed by HeroCraft, lets you rekindle your love of the beloved TV show of the same name. Though the Scrubs TV show has been off the air for many years, you can now have some new adventures (and laughs) with your favorite TV characters thanks to this iPhone game.
Mobile games based on popular TV comedies are all the rage right now (see the very popular Tapped Out, a Simpsons tie-in game that has quests that tie into the current season of the show.) The Scrubs iPhone game does a great job of capturing the feel of the show, even if the look is a bit more cartoony than the real show ever was (even in that sitcom parody episode!)
You play as a new medical intern who has just joined the hospital where J.D. works. Your role is part doctor, and part detective: many quests will send you all over the hospital looking for missing items.
At its core, this TV-inspired title is basically just a hidden object game. If you like the genre, good news. If hidden object games drive you crazy with frustration, well, at least the funny interactions with the characters can minimize that annoyance. However, there are also some quest elements to the game as well.
Part mini game collection, part comic book, and part "find the missing item" game, Scrubs is a fun game for fans of the TV program. And the plot that cuts through the whole thing is in fact pretty interesting.
If you still have some Black Friday cash to burn, why not treat yourself? You won't be getting any new episodes of Scrubs any time soon, so this cute iPhone game is the closest thing you'll get to new stories about JD, Eliot, Dr. Cox, Carla, and Turk.
Scrubsis compatible with iPhone, iPod touch, and iPad. Requires iOS 3.0 or later This app is optimized for iPhone 5.