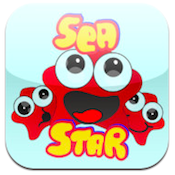 Price: $0.99 Score: 8/10 Category: Games
If motion-based puzzles are your idea of iPhone fun, then we have an iPhone game you should check out:Sea Star HD, developed by HF Games.
Sea Star HD challenges players to tilt and rotate the screen in order to help a group of lost sea stars find their way home. Along the way, you'll need to avoid dangerous hooks and work your way around various obstacles.
While Sea Star HD starts out at an almost painfully easy level of difficulty, it quickly progresses to a really surprising challenge. Levels where you need to save all five of the little sea stars prove to be very challenging.
While Sea Star HD is filled with cute graphics and adorable sound effects, the levels in Sea Star HD are challenging enough to entertain adults. But rest assured: kids will love it, too.
While it may seem like a pretty simple title, Sea Star HD is totally worth your money. While it looks easy, each level has surprising depth and immense replay value.
The physics feel a bit slow, which can make a couple levels feel like they drag on and on. But to be fair, the game is set entirely underwater, and so that molasses-like quality of the physics actually makes a lot of sense. If you like your physics puzzlers to be fast paced, Sea Star HD might not be quite what you're looking for.
With almost 50 levels to master, a cool soundtrack, and universal support, Sea Star HD is an iPhone game that's definitely worth checking out. Kids, puzzle freaks, and casual mobile gamers alike can all find something to enjoy in this cute iPhone puzzle title.
Sea Star HDis compatible with iPhone, iPod touch, and iPad. Requires iOS 3.2 or later.A small expedite fee was paid by the developer to speed up the publication of this iPhone game review.