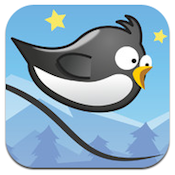 Price: $0.99 Score: 8/10 Category: Games
If you're a fan of the "draw a line" genre of iPhone games, drag your finger over your phone and make a path towardsSliding Sam, developed by Samuel Marin.
You've probably played iPhone games that are similar to Sliding Sam before. You have a character who needs to get from one side of the screen to the other. You draw a path with your finger, and the character slides across that line, collecting items along the way. In the case of Sliding Sam, you control a penguin who needs to collect stars and get reunited with his lady love.
The graphics and music are both very cute, and the controls work well. One issue I always seem to have with these kinds of games is my frustration with the line drawing part. In Sliding Sam, the line drawing mechanics work well, but I still find myself frustrated when playing on the small screen of my iPhone. I always feel like the tip of my finger is blocking my vision.
One thing I really liked about Sliding Sam when compared to other "draw the line" games was the speed. I sometimes feel like "DTL" games suffer from sticky physics. Thankfully, Sliding Sam stays exciting by letting Sam really build up speed and launch off your lines.
With great music, cute characters, a pile of fun "draw the line" style puzzles to master, and a cheap price tag, it's hard to find fault with this adorable, kid-friendly iPhone puzzler. But while Sliding Sam may be fun for all ages, it doesn't do anything particularly revolutionary with the format.
It's still a fun iPhone game, but if you've played another "draw the line" game in the past, you might not find anything particularly exciting in Sliding Sam.
Sliding Samis compatible with iPhone, iPod touch, and iPad. Requires iOS 3.1 or later. A small expedite fee was paid by the developer to speed up the publication of this iPhone game review.