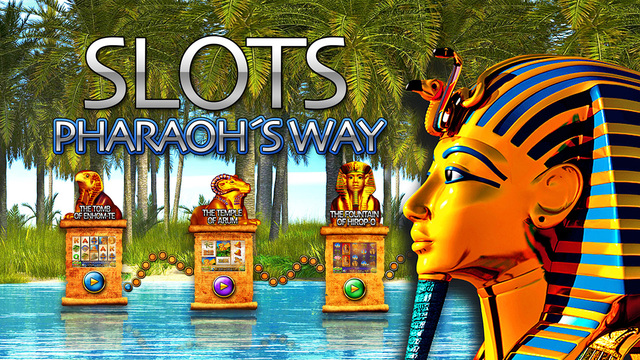 Slot machines in arcades require you to insert coins to play. To freely play a slots game, check out Slots – Pharaoh's Way. That is an app available for the iOS and Android platforms that brings all the fun of slot games to your tablet or iPhone.
What Does it Do?
Slots – Pharaoh's Way is an app in which you can play a number of slot games across a variety of maps. The game has five alternative maps with at least six slot games, each separated by 10 levels. Overall, it has 35 slots and five tournaments to play in. Players collect diamonds to progress through the levels and unlock new slots. The more credits you stake, the higher the amount of diamonds you win on each spin. In total, the slot games boast 243 win-ways. It also has one bonus game on each of the slots.
This is a simple app to play. The outcomes of spins are entirely random. It does not include any additional options to alter spin outcomes such as nudge and hold, which fruit machine have. Consequently, there is little scope for playing strategy. It does include an extra card mini game that enables you to double or quadruple credits by correctly predicting which card color or suit will be dealt from the top of deck of cards, but that is also largely random. The bonus games on each slot add a little more variety, but the developer could have included more of them to give the app even greater variety. From level 40 it becomes a remorseless grind to unlock new slots.
With regular free bonus credits the app offers good value. You can claim a 1,500 credit bonus every four hours. As such, you can probably play through the game with those credit bonuses. In addition, the app is also freely available.
Slots – Pharaoh's Way has decent graphical quality. It includes smooth and slick animations and some quality art on its slots and maps. The maps have some extra graphical gloss with animated lighting effects, butterflies and snowflake effects. Although the 3D effects in this game are relatively limited to rotating text, diamonds and other slot icons.
Each of the maps have alternative background music. Furthermore, the slots have plenty of brief musical bursts for some of the spin outcomes. Players can also select to play their own iPod music in the background. There are a variety of in-game slot sound effects such as sporadic drum rolls on spins, which is a good touch.
Tapscape's Final Thoughts
This app is certainly one to note for slot frolics. It offers decent value and a good number of slots to play through. Although it is a little short of variety and can become a tedious grind after a number of levels are played.This page includes further app details.