The iPhone 4S officially launches today, with fans slowly beginning to queue outside Apple stores all around the world in the hope of being one of the first to own the new device.
Australians were the first to get their hands on the iPhone 4S, with lines forming in the early hours outside East-coast Apple retail and mobile carrier stores. Below is a photo taken outside the Telstra store in George St, Sydney. (Picture: Charles Brewer)
Lines have similarly started to grow outside stores throughout Europe, with large numbers now waiting outside Covent Garden and Regent Street Stores (Photo: @tgrande)
One of the largest queues for the iPhone 4S appears to be forming outside the Opera Apple Store in Paris, with over 150 now waiting in line. (Photo: MacRecord)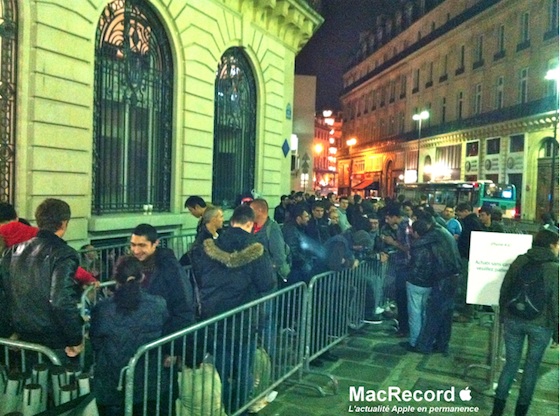 It's still very early morning in the US, but there doesn't appear to be anywhere near the numbers of devotees camped out for the launch compared with the frenzy seen last year for the iPhone 4. Apple Co-Founder Steve Wozniak is reportedly the only person in line at California's Los Gatos store.