The funny thing about the quantity vs quality debate, a lesson that Nikita "We will bury you!" Khrushchev and the Soviet Union took to the grave, is that quality embodies an ineffable quantity in and of itself. In the here and now, Android market share has reached dominance level and the iPhone is getting buried.
International Data Corporation smartphone market share estimates show that devices running some version of Android now account for 75 percent of all units sold.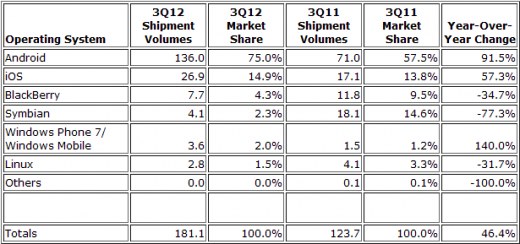 Android has been one of the primary growth engines of the smartphone market since it was launched in 2008. In every year since then, Android has effectively outpaced the market and taken market share from the competition. In addition, the combination of smartphone vendors, mobile operators, and end-users who have embraced Android has driven shipment volumes higher — Ramon Llamas, research manager, Mobile Phones, IDC.
Whereas the smartphone market grew by 46.4 percent overall — the iPhone's tally rose by more than half — Android unit volume skyrocketed by a staggering 91.5 percent year-over-year.
That said, legacy RIM and Symbian devices will soon be little more than a historical footnote. Further, RIM's Blackberry 10 platform will likely be dead on arrival in 2013 and the recently launched Windows 8 Phone devices from Nokia, Samsung and others have little chance of meaningful success in the market.
Fundamentally, the future of smartphones running anything other than Android or iOS isn't bright…
What's your take?
via The Next Web