Three people in Asia have already reported that their Vaio Fit 11A's battery overheated and now that those cases seem to have been confirmed, Sony has stopped selling the device and is telling users to stop using them. Only some versions of the device are affected, but a large portion of the 26,000 units that have been sold are at risk.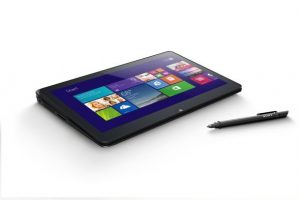 While it figures out what to do, Sony has confirmed that it will either issue a refund or fix the convertible laptops at no charge to the customer.
The Vaio Fit 11A's battery was manufactured by Panasonic, not Sony, though Sony has had its own problems with bad batteries in the past. In 2006, a massive 4.1 million unit recall occurred because batteries manufactured by Sony were at risk of overheating as well.
Actual heat-related fires have not been reported thus far, but the batteries did cause burns to the device itself.
A customer in Asia first reported the issue on March 19 and then another individual claimed that the same thing occurred with their computer on March 30. Once these reports were verified and the battery issue was discovered, Sony halted sales on April 1.
It has come to our attention that some of the internal, non-removable battery packs provided to us by a third party supplier and included in VAIO Fit 11A released in February 2014 have the potential to overheat resulting in partial burns to the housing of the PC. – Sony
The at-risk models will have a product name in the format "SVF11N1XXXX", with the X's representing various numbers and letters.
Only several hundred units were sold in the United States, with the majority having been sold in Europe and Asia. This has likely contributed to the fact that all of the reported battery issues have originated in Japan and China.
Question – Should companies be stress testing their units prior to shipping them out, in order to catch problems like this early on?
Summary

: Sony is telling customers to stop using the Vaio Fit 11A convertible laptop. Three customers in Asia have reported that their units overheated. The batteries at-risk were manufactured by Panasonic.

image credit: cnet