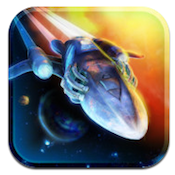 Price: FREE Score: 9/10 Category: Games
Star Splitter 3D is an iPhone game developed by StepGames Inc.This free app lets you fly through space and shoot everything in sight.
My biggest beef with games like this (and by "games like this," I guess what I mean is space shooting games where you're basically flying through a tunnel) are the controls. In most space shooters, the flight controls are usually wiggly and slow to respond, or way too overly sensitive.
But Star Splitter 3D actually has pretty decent controls. You have your choice of onscreen joystick or accelerometer. The latter also has a sliding bar that you can use to adjust how sensitive the controls are.
It might take a bit of experimenting, but this control system is pretty easy to calibrate to the liking of pretty much any player. I set mine to pretty much the maximum sensitivity setting, and was amazed at how much better my gameplay experience was, versus playing on the default setting.
While the graphics and shoot-em-up gameplay of Star Splitter 3D are highly enjoyable, the story is a little light for my taste. Your mileage may vary, but one area where this game could improve would definitely be in the story department. Action's all well and good, but this game feels like it has the potential to be so much more than it is now.
That's not to say Star Splitter 3D is a bad game in any way, shape, or form. If you want to blow up spaceships and asteroids with some sweet weapons, Star Splitter 3D is one of the best games you could choose.
Star Splitter HDis compatible with iPhone 3GS, iPhone 4, iPhone 4S, iPhone 5, iPod touch (3rd generation), iPod touch (4th generation), iPod touch (5th generation) and iPad. Requires iOS 5.0 or later. This app is optimized for iPhone 5.