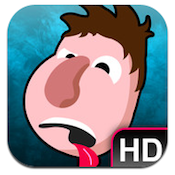 Price: $0.99 Score: 8/10 Category: Games
Stitches is an iPhone game developed by Applied Studios. Somewhat inspired by classic board games like Operation, your goal is simple: remove objects from within the body of a surgical patient. The app is also a fundraiser for SmartTots, an organization that funds anesthesia research in order to make surgery more safe for children and infants.
Stitches might sound familiar to long-time readers. We previously reviewed the game here, giving it a 6/10. In the original review, we wrote: "Overall Stitches is a nice iOS portrayal of the board came classic.Applied Studioscould score more points with a compelling multi-player element and the first level is much harder than any of the others, but for a one dollar imitation of an already basic board game, how much game play can you expect?"
Stitches lets you play doctor with a virtual patient with all kinds of things that need to be removed his body. The controls are a bit tricky, but that makes the task of removing 18 various organs from the poor chap on your table.
After a brief tutorial, you'll be sent on your way and allowed to start operating properly. Prepare for lots of pinching and pushing to get those organs out, but work quickly, or your patient will bleed out.
Stitches is similar to the board game Operation, but it also bears a good deal of resemblance to Adult Swim's beloved surgery franchise Amateur Surgeon. If you've played Amateur Surgeon, then Stitches may strike you as a bit of a let-down.
Compared to its Adult Swim cousin, Stitches lacks some perks. Stitches is a solid title, but gamers who already tried the Adult Swim interpretation of Operation will find themselves pining for the quirky characters and weird storylines that are sorely missing from Stitches. On the plus side, Stitches is a bit more appropriate for kids than the Adult Swim game it bears such a strong resemblance to.
Stitches is a fun game that has definitely improved since we last reviewed it. If you loved playing Operation as a kid, this is worth checking out. Plus, the app supports a great pediatric research organization!
Stitchesis compatible with iPhone, iPod touch, and iPad. Requires iOS 4.1 or later.