Samsung says that it has created the world's slimmest and lightest in the world, the NX mini Smart. Alongside the mini camera are three new NX mini lenses than can be used with the body. Even after attaching a lens to the main part of the camera, it is still slim enough to go into a pocket.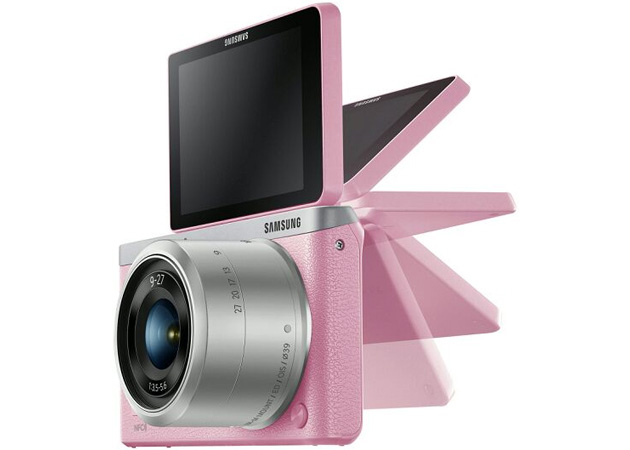 The sensor on the camera is the same one inch type sensor that Nikon uses on its 1 system. Even though it is very small at 158g and 22.5mm, the NX mini still includes a 3-inch touchscreen display that can be rotated 180 degrees.
Since Samsung absolutely loves faux leather designs, that material is used on the body of the camera in order to improve grip. The rest of the camera is made of magnesium and aluminum which keep the weight down while not significantly compromising on durability.
The NX mini is all about selfies, according to Samsung, which says that the lightweight and slim design is perfect for people who want a regular camera that can be carried around with ease.
Samsung introduced the first flip up touch display camera in 2011 as a leader of the selfie trend, and has designed the device in response to evolving consumer demands. This approach is exemplified by the NX mini, with features such as a 3.0-inch Flip up Display and wide angle lens exclusively designed to address the global passion for selfies. – Myoung Sup Han, Executive VP, Samsung
Selfies are also easier to take with the NX mini because of the "wink shot" feature which allows people to wink at the device and then have it take a picture two seconds later. This is a more efficient approach to capturing a group shot than having to set a timer.
An adapter will be necessary in order to use other NX lenses that Samsung has already released, so the camera is still quite limited.
The NX mini launches in April in either black, white, brown, light green, or pink.
Summary

: Samsung has announced its NX mini camera. The device is the slimmest camera on the market and Samsung says that it is the perfect camera for taking selfies. Three NX mini lenses were also announced.

image credit: engadget