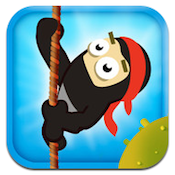 Price: FREE Score: 8.5/10 Category: Games
SuperRope is an iPhone game developed by Craneballs Studio LLC. This climbing title is great fun at at great price, and it's definitely worth your time if you're looking for a new game to help you kill time.
If you've ever played Mario Party, you're sure to remember the 4-player mini game Leaf Leap, where players have to jump up a giant beanstalk's leaves, getting ever closer to the sky. SuperRope is a bit like that, but with far more variety in the gameplay in terms of mobility, as well as obstacles that will stand in your way.
SuperRope features fast-paced climbing levels. Tap to the left or right to move over to the next vine. Avoid obstacles in your way that will make you plummet to your death, and collect coins and power ups along the way.
The better you get, the more characters you can unlock, which goes a long way towards keeping the fairly repetitive gameplay fresh. You've gotta love a game where you catch yourself crying out, "Dang it! I got taken down by another parrots / evil robots / piano!"
There's a crazy variety of objects that you will interact with over the course of SuperRope's 30 different missions. While the gameplay does get a bit repetitive after a while, the cute characters and weird obstacles that you have to look out for really do keep SuperRope from getting stale in a hurry.
There are also missions to keep things interesting: these might include grabbing 300 coins with a magnet or jumping 200 times in one mode.
If you love a good climber that's fast-paced and features fun graphics, SuperRope is totally worth checking out. While it might be a bit tedious in marathon sessions, there's decent variety in the gameplay to keep you coming back for more…as long as you play it in relative short bursts.
SuperRopeis compatible with iPhone, iPod touch, and iPad. Requires iOS 4.3 or later.