A report from Chitika has shown that Amazon Kindle and Microsoft Surface tablets accounted for more web traffic around the holidays than they had before.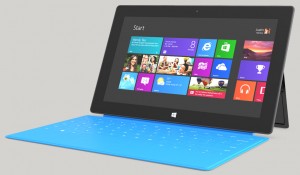 Two tablets which had previously controlled a very small portion of the market are now showing signs of revitalization. A holiday survey put together by Chitika has shown that the Surface and Kindle tablets accounted for more web traffic than they had in the past, although iOS devices are still dominate.
Earlier reports from before the holidays had shown that Microsoft was likely to see more success with its Surface 2 tablets than the original Surface, meaning that Chitika's report is not necessarily surprising.
As unsuccessful as Microsoft may have been with the original Surface and Surface Pro tablets, it is still investing heavily in their success. As Microsoft itself struggles to regain prominence in the tech industry, its tablets will very important, so news like this is beneficial.
Surface users generated more tablet traffic than all Google Nexus tablet users following the holiday, making Microsoft the fourth-largest source of continental tablet Web traffic should it maintain the lion's share of this latest share growth. – Chitika
Chitika specifically compiled data on web traffic before and after Christmas and with its data, found that the Surface tablets accounted for more traffic after Christmas than one of the most popular Android devices, the Google Nexus.
Amazon is also doing quite well, especially in comparison to previous reports, with its own 0.6% usage share increase. With the increase around the holidays, web traffic from the Amazon Kindle reached 9.4%. This boost is being attributed to the success of the Kindle Fire HDX, which Chitika says has jumped to the head of the tablet market since its release.
In the tablet space, share gains by Amazon and Microsoft, among others, contributed to the slight iPad drop. With the increase, the Kindle Fire has continued its remarkable run to the top of the Android tablet marketplace – it's the second year in a row in which the tablet family has posted the largest post-Christmas tablet usage share gain. – Chitika
As great as these numbers may be for both Amazon and Microsoft, usage share does not always equal market share, so the Kindle and Surface tablets will still have to attract more buyers to become larger players in the massive tablet market.