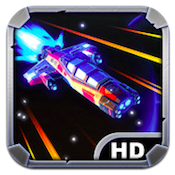 [app id="566282469″]
Syder Arcade HD is an iPhone game developed by Studio Evil. A love letter to the Amiga games of the 90s, Syder Arcade HD is a free scrolling, multi directional shoot 'em up space fighter. (A note to readers rocking an iPhone 4 or iPod Touch 4th gen: you can stop reading now, because Syder Arcade HD won't work on your device, unfortunately.)
"This game will bring you back in time, when bulky starships were cool and games were about player skill and swearing madly at your computer," the developers exclaim in the game's App Store description. And they couldn't be more right. Syder Arcade HD has great personality and recaptures the fun of old school gaming.
If you check out the user reviews on Syder Arcade HD, one of the things that gets brought up time and time again is the quality of the music. If you grew up playing games in the arcades (or just watched "Tron" on repeat throughout your youth), you'll love the fantastic blend of electronic and epic rock tunes.
After you choose either "Campaign" or "Survival" mode, the real fun can begin. One thing that is a bummer is the size of the font used to give you vital story info: it's nearly impossible to read! However, the simple controls make steering your spaceship and firing upon the enemy feel quite intuitive.
One small touch that I really loved is the "news ticker" that runs along the bottom of the main menu screen. It has tons of useful info and updates for players, and it's a thoughtful touch.
If you consider yourself a tenacious, long-haul style of gamer, Syder Arcade will push your reflexes and your endurance to the limit. Syder Arcade HD is a must-play for any fans of space battle games.
Syder Arcade HD is compatible with iPhone 4S, iPhone 5, iPod touch, iPod touch (5th generation), iPad 2 Wi-Fi, iPad 2 Wi-Fi + 3G, iPad (3rd generation), iPad Wi-Fi + 4G, iPad (4th generation), iPad Wi-Fi + Cellular (4th generation), iPad mini and iPad mini Wi-Fi + Cellular. Requires iOS 5.0 or later. This app is optimized for iPhone 5. IMPORTANT NOTE: iPod Touch 4, iPhone 4, are NOT SUPPORTED.