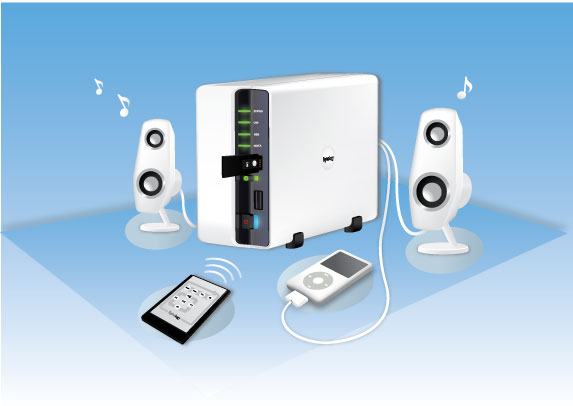 Media management has always been a point of interest for me, with, what it seems, everyone having their own unique way of storing and sharing files around their own network. Some opt for a NAS, some simply (like me) have a Intel Atom PC running Windows with a variety of servers distributing the media around my network, while others prefer iTunes. There seem to be restrictions to most implementations, especially when you start to talk cross-platform sharing between the likes of iOS and Android. However, the best solution I have come across was the Synology Disk Station NAS. They are not only just a home media distribution server, but also act as a backup for your various PC's or Mac's around your home network.
The Synology Disk Station itself has both iOS and Android clients which you can access your media from (to overcome that cross-compatibility I mentioned) together with an iTunes server and a whole variety of different plugins available. The Synology NAS will take your media stored on a series of internal HDD's in the NAS and push it to pretty much any device you like. The only issue up until this point was to play media to your Apple TV, it required an intermediary device, whether that be an iPhone or iPad, to relay the media from the NAS to the Apple TV through AirPlay.
That is, until today. The Synology Disk Station has just received the 4.2 update which adds a whole array of features from RADIUS support, to significant speed improvements (and more), but of most interest is the ability to now use AirPlay to stream media directly to the Apple TV.
AirPlay Streaming to TV

Video Station turns your living room into a real home theater. Stream epic action movies or episodes full of suspense from Video Station onto your widescreen TV, via Airplay. Control the playback single-handedly with your mobile device, leaving you with a free hand for popcorn and chips.

DS video as Remote Control for AirPlay

Make the home theater experience everywhere with the movies and TV shows you love to watch. DS video lets you stream videos onto the big screen with AirPlay services. Whether you are comfortably at home or visiting a friend, full-screen visual entertainment is ready at your call.

AFP (Apple File Protocol) performance enhancements– The speed of file transfers to the DiskStation has improved up to 52%.
So following the 4.2 update, the Synology Disk Station is your complete one stop solution for media management. So what are you waiting for? Update now!