T-Mobile owners of the Samsung Galaxy Note 2 have an early Christmas present from their carrier — the promised software update for Samsung's top-rated phablet is now available.
The Samsung Galaxy Note 2 update was announced earlier this week and the carrier did not disappoint by rolling it out right on schedule. The Samsung Galaxy Note 2 update is approximately 73 MB and is one update that owners of the device should definitely download as it brings the following improvements to the 5.5-inch phablet:
New multi-window feature
Resolves Exchange calendar events not appearing on device Calendar
Resolves issues with being unable to swipe through Gmail messages
While some of you out there may have been hoping for Android 4.2 Jelly Bean update, the features that this update brings are still something to get excited about.
In case you weren't aware, multi-windows is a nifty little feature of the Samsung Galaxy Note 2 that allows you to split your device's massive display into 2 sections, each one running a different application. It's a great tool for power users who are looking for ways to multitask using their mobile device. For example, on one screen you can be running something work or productivity related and on the other section, you're interacting with your Facebook wall.
So how do you get the multi-windows update? You'll have to go to your device settings and manually update the device. You can also try getting it via the Samsung Kies app but a lot of users have complained that it's not updating via the tool is not always a pleasant experience.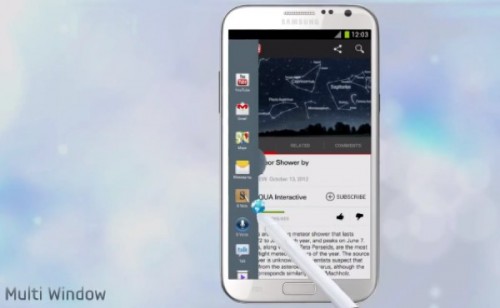 Happy downloading and let us know how you like the T-Mobile multi-windows update for the Samsung Galaxy Note 2.