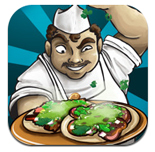 Price: $0.99     Score: 7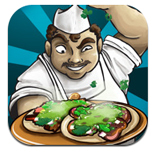 /10    Category: Games
Taco Master is Chillingo"s newest time management game.  You play as a taco cart vendor, keeping up with the ever-increasing demands from your hungry customers.
Taco Master offers standard time management game play.  You have an order from a customer and to fill the order you pull the ingredients onto the taco.  As the game progresses, the orders become more complex with additional fillings and toppings.
The controls function smoothly.  You pull the taco from the center of the cart and pull the various ingredients onto the taco, then flip it to the right customer.  The actions respond well オンライン カジノ to touch and are easy  to reach and maneuver.
The graphics are surprisingly distasteful for a food game.  The food looks unappetizing and the colors are mainly dingy shades of brown, red and green.
The real problem with Taco Master is the difficulty level.  It is too easy for too many levels, and becomes boring before it becomes challenging.
Bottom Line: As with all Chillingo games, Taco Master plays smoothly.  Sadly, the unappealing art and low challenge level keep it from being a time management star.
Taco Master is compatible with iPhone, iPod touch, and iPad. Requires iOS 3.2 or later.