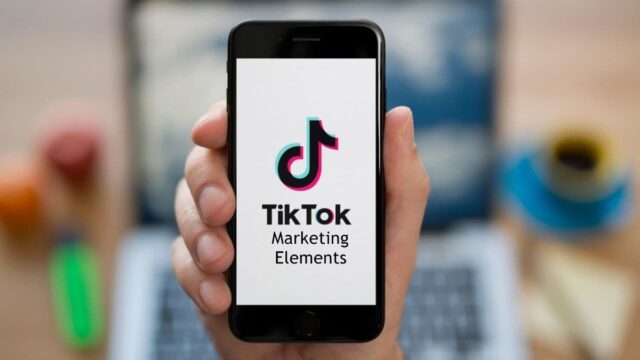 Could investing in TikTok marketing be the ideal way to grow your brand?
Countless brands seem to think so. TikTok is one of the fastest-growing social media platforms in history, appealing to more than 800 million monthly active users. This channel also happens to be the best way to strengthen your connection with your target audience if you're interested in Gen Z.
Younger generations have swarmed TikTok, falling in love with it's trending challenges, and fast-paced approach to video content. However, that's not to say that you can't reach older customers too. TikTok is rapidly appealing to a wider range of users too, particularly thanks to the influence of celebrities rising on the platform.
The question for most companies isn't should you consider marketing on TikTok, it's how do you make sure that your promotional investment pays off?
The Top 4 TikTok Marketing Factors
There are plenty of features on TikTok that can help brands to create a more powerful image online. The more you learn how to use TikTok's unique components for your brand building strategy, the more results you'll see. Everything from the kind of music you use in your videos, to the way that you experiment with duets can have a huge impact on your results.
While there's no one-size-fits-all approach to successful social media marketing, right now, there are some strategies that seem to be paying off more consistently for brands than others. These are the essential elements of TikTok that can help to kick-start your marketing campaigns and give you a central strategy for social media success.
The four elements of TikTok you need to focus on are TikTok Influencers, TikTok ads, Hashtags on TikTok, and User-Generated Content on TikTok.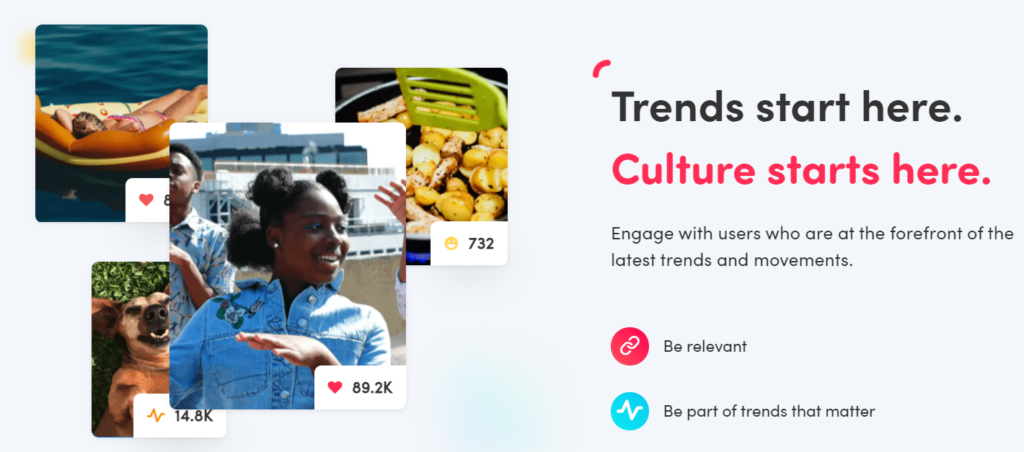 1. TikTok Influencers
Influencers are probably the most valuable tool out there for anyone interested in TikTok marketing. No matter their age or background, today's TikTok users are looking for authentic and unique experiences on the platform. They're not interested in traditional ads.
With Influencers, companies can get their finger on the pulse of the latest trends, appeal to audiences with campaigns that speak their language, and even improve brand reputation. TikTok influencers give you instant access to the kind of viewers you want to reach on the platform, and they can also help you to enhance your TikTok strategy. These professionals know how to leverage things like hashtags, TikTok trends and unique features to your advantage.
Your ideal influencer will show you how to use everything from duets to the right music in your campaigns. For instance, TikTok influencers partnered with Universal Pictures to promote "The House with a Clock in its walls". The influencers shared "magical" stories with the hashtag #FindYourMagic and earned around 1.3 million likes in total.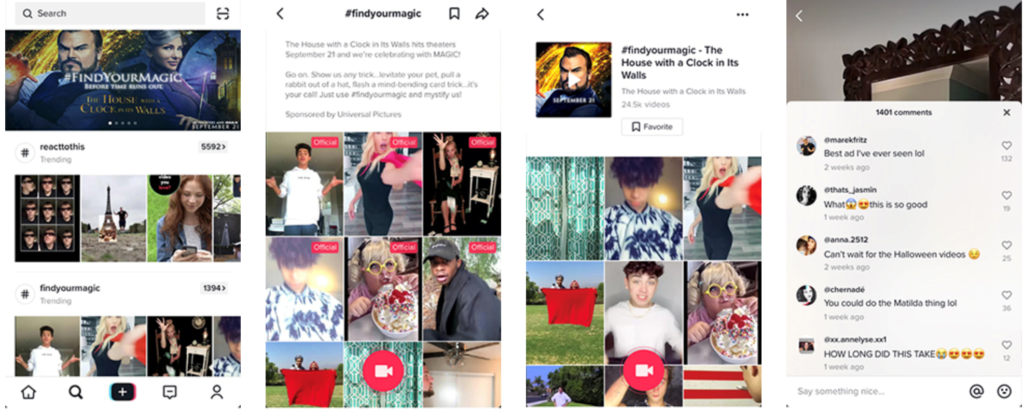 The key to successfully using TikTok influencers in your campaigns, is finding the right people to connect with. You can search for influencers online using the right services.
Tools like Influence Grid, the leading TikTok user search engine, allows you to sort through potential influences based on their number of likes, their engagement levels, and more. Sorting through your available connections is as easy as clicking a few buttons.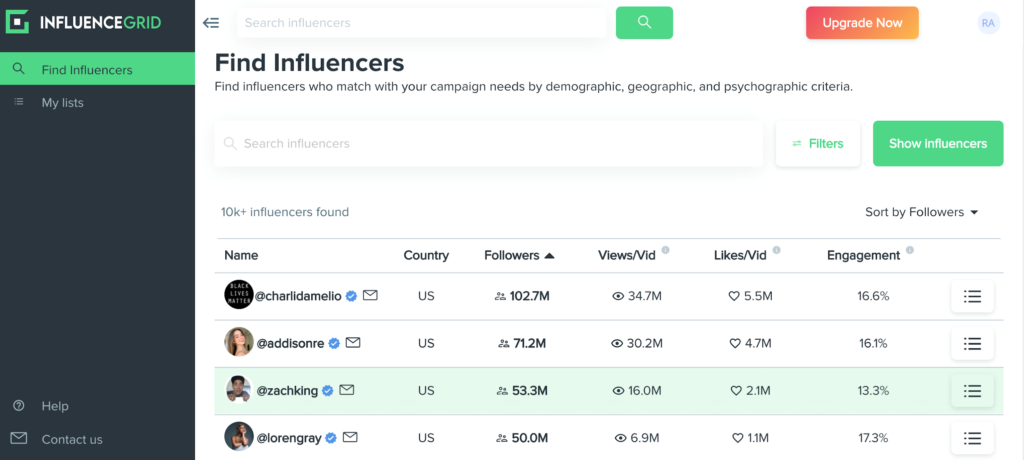 2. TikTok Ads
Ads are a relatively new concept on TikTok, but they're quickly gaining steam. Designed to capture your audience's attention fast, these ads are a proven tool for many brands. For instance, Guess used the Ads function on TikTok to promote their #InMyDenim campaign, and reach more users interested in their products.
TikTok has its own ads manager now, where you can choose exactly how to launch your campaigns. Formats include everything from horizontal and vertical ads, to square videos, and images. You can show your ads in-feeds for your customers, at the top of the app page, or in a "post roll" space. Companies can also experiment with things like "branded takeovers" branded effects, and branded hashtags to generate more attention.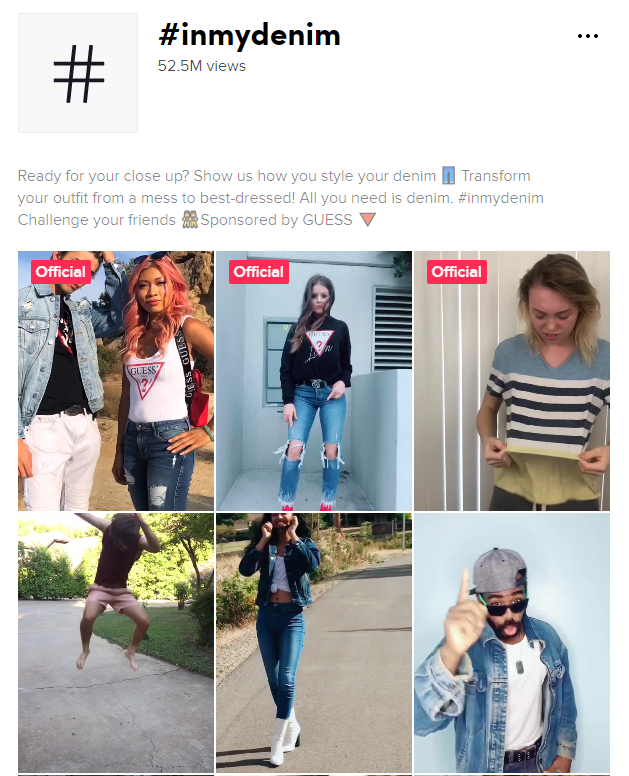 To help you get started, TikTok has a video creation kit, and an automated creative optimization service, which helps you with improving your ad performance.
You can also specifically target the kind of audience you want to reach with your TikTok ads. Like Facebook or Instagram, TikTok allows you to choose who you want to connect with based on "unique variables" like age, location, interest, and gender. There's also the option to create custom and lookalike audiences, similar to the ones you'd find on Facebook.
Ads on TikTok are just like paid advertising solutions on any social media marketing campaign. They can help to give your brand the initial boost it needs alongside your organic posts. If you need a little help getting some initial attention on TikTok, ads are a great choice.
Hashtags aren't unique to TikTok marketing strategies.
Chances are that you'll be using hashtags in virtually every social media campaign you run – whether you're active on Pinterest, Twitter, Facebook, or Instagram. The key to success is learning how to leverage your hashtags effectively for each platform.
On TikTok, hashtags serve a variety of purposes. First, they help you to get discovered and connect with more potential browsers. Like Instagram or Twitter, TikTok can find your content when they search for specific hashtags.
More importantly, hashtags are crucial for taking part in the biggest viral trends on TikTok – hashtag challenges. These challenges appear almost at random, created by brands, influencers, and everyday users. With hashtag challenges like #Fliptheswitch or #Eyeslipsface, companies can make sure they're getting involved with the trending topics of the day.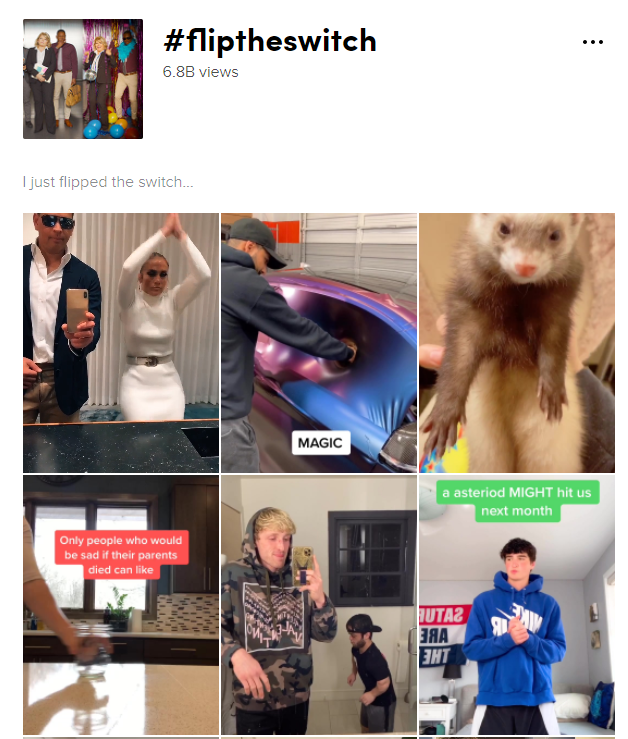 There's a lot of chatter right now about whether certain tags can increase your chances of getting on the "Discover" or "For You" pages of TikTok. This is basically where your customers go to find new content from creators that they might not be familiar with yet. You might notice that there's a lot of tags like #foryoupage and #viral on some trending tags – and these are actually quite widely followed.
The best ways to master hashtags for your brand include:
Following hashtag challenges: Get involved with the trending challenges that make sense for your brand and show your customers your fun side.
Checking trending hashtags: See what's on the Discover page and pay attention to the latest trends. In 2020, common trends included #StayAtHome
Create your own hashtags: Encourage user-generated content and help your customers find you with specific branded hashtags like #JustDoIt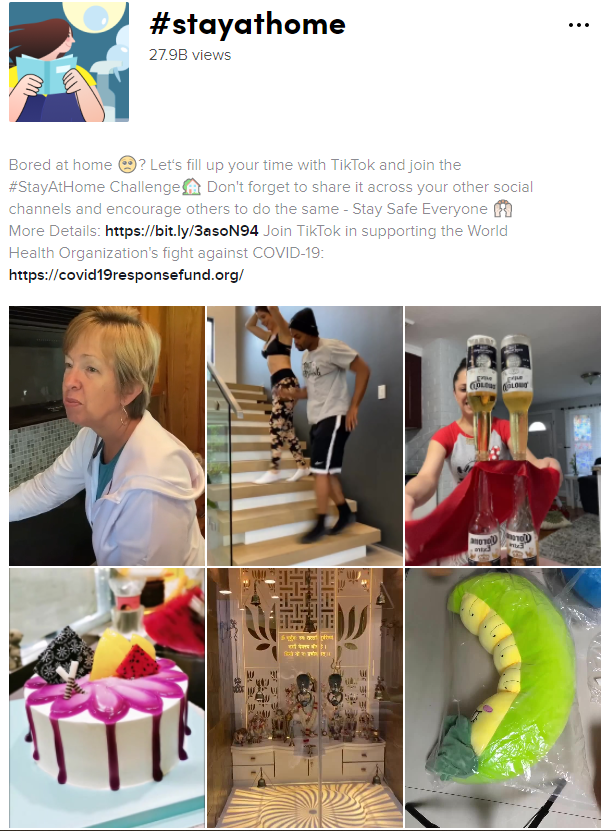 Remember to pay close attention to the kind of hashtags your audience responds to best, and what kind of tags your competitors are using too. This will give you a head start on future campaigns.
4. User Generated Content
Finally, user generated content has always been a powerful tool for social media. It gets your customers engaged by showing off posts from other people just like them. User generated content is also an excellent source of social proof. It shows your followers that you already have a lot of happy and committed fans.
So, how do you access UGC on TikTok? The first step is usually creating your own branded hashtag challenge. If you can create a challenge that followers can get behind, then you'll gain a lot of attention very fast. For instance, one of the earliest brand-driven challenges to arrive on TikTok was the #ChipotleLidFlip. The company worked with influencers to generate attention, but everyday people soon started creating their own videos too: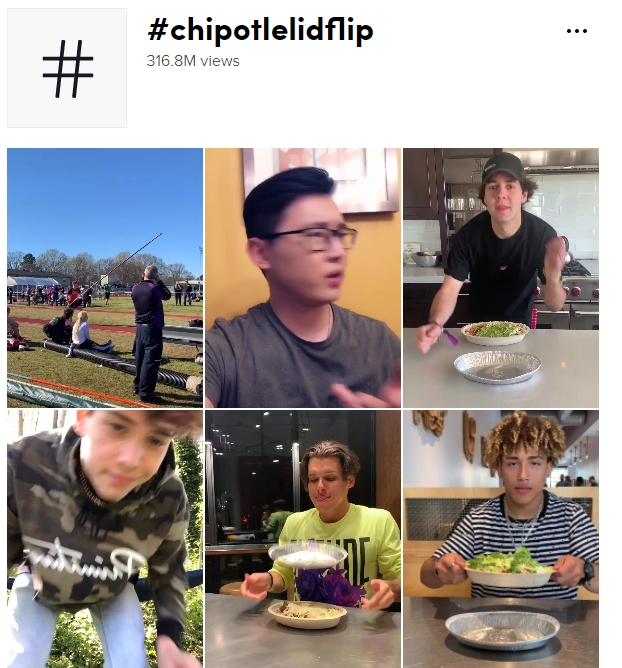 Look at the kind of challenges that are already trending to inspire you, and make sure that you pay attention to the kind of content your audience feels most comfortable creating. Using an ad or influencer to hype your challenge will help to get the UGC streaming in.
Don't forget to consider other social media strategies for user-generated content too. For instance, asking customers to share videos of them using your products or services for a chance to win a prize is always a good idea. Competitions combined with a branded hashtag will instantly generate more attention for your company – as long as you're offering the right kinds of prizes.
If you do run a competition, make sure that you share the content that wins and look into doing a duet or collaboration with the winning content creator. This will demonstrate a more authentic side to your business.
It's Time To Leverage TikTok Marketing
TikTok is a platform that no business can afford to ignore in this rapidly evolving social media landscape. Whether you're trying to reach a younger audience, or you just want to improve your brand's reputation and make your company feel more approachable, TikTok could be the perfect choice.
The key to success with any social media campaign is finding out what your audience responds best to. The four elements above stand out as the best places for any business to begin their TikTok journey. With influencers, user generated content, hashtags, and ads, you can find the ideal strategy to stand in the age of TikTok marketing.