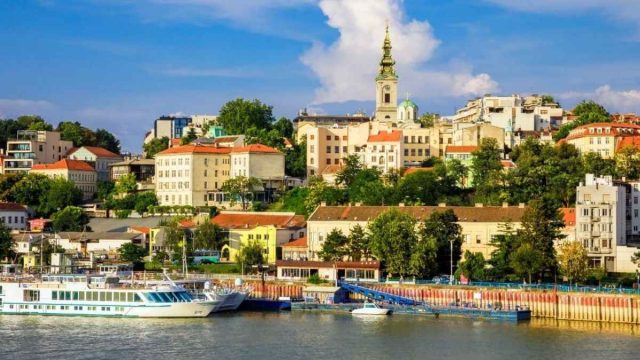 Registering a company in Serbia is a popular option with entrepreneurs from different parts of the word, especially those outside Europe. By settling down in Serbia, a foreign national can gain access to European markets, immigrate to Europe with his/ her family, put the money in a safe bank, and use advanced healthcare and educational services in the country. The local legislation does not limit the foreigners' rights to create companies in Serbia: a foreign national is free to register a company in the country, change its ownership structure, and close the company if he/ she wishes. The only limitation is that agricultural land cannot be purchased by a foreigner in Serbia.
A foreign entrepreneur can count on obtaining a business loan at a reduced interest rate of 1.5% to 2.5%, using consulting and legal services provided by specialized Government agencies as well as tax breaks and tax deductions. A foreigner registering a sole proprietorship or a limited liability company in Serbia is entitled to request a legal residence permit.
If everything goes as planned, Serbia is going to join the EU by 2025. This means that a foreign entrepreneur legally residing in Serbia will be able to trade with European partners without going through bureaucratic procedures nor paying any export duties. Besides, he or she will be able to set up company subsidiaries in other European countries, attract investments, and use the European business support programs.
Go to internationalwealth.info for additional details about registering a company in Serbia.
Opening a company in Serbia: the Algorithm
Serbia gives equal opportunities to resident and non-resident entrepreneurs. Foreign individuals and legal entities can purchase property in Serbia that is needed for their business operations (with the exception mentioned above).
The foreign national planning to start a company in Serbia shall be above 18 years of age and have a personal identification document. A set of application documents shall be submitted when you register a company in Serbia. If you are bringing some documents issued in your home country, they have to be translated into Serbian and translations notarized by a Serbian notary. Please note that documents notarized by foreign notaries have no legal power in Serbia. When choosing an office for your company, you have to ascertain the property status with the Republican Geodesic Institute.
Beginning May 17, 2023, only electronic company registration is possible in Serbia. If you want to set up a sole proprietorship, however, you can also do it on a personal visit to the Registrar. You can use the following algorithm when registering a company in Serbia:
1 Prepare for company registration
You have to choose the business area and the form of ownership for your company. Besides, you have to come up with a name for your intended company and draw up a constituent document.
2 Acquire an electronic certificate (digital signature)
A foreign entrepreneur has to apply for a digital signature to one of the police departments in Serbia or to the certification agency. This means that a visit to Serbia is going to be required. People of most countries are entitled to enter Serbia without visas but they have to inform the local police department about the place of their stay. If you are staying at a hotel, the hotel administration will do it for you.
3 Create an account with the electronic commercial registry agency
You have to create an account at eID.gov.rs. Internet portal. When you log onto the website, click on 'register with electronic certificate' and then fill out the form following the instructions.
4 Apply for company registration
You have not more than 15 days from the date when your company (or sole proprietorship) is created to register it officially. You have to use your account to log in to the electronic APR system and fill in the online questionnaire. Please note that a) the questionnaire is in Serbian and b) you will not be able to change the data that you enter so you have to be attentive. Your application document package will also contain digitized documents with electronic signatures of the notaries who have certified them. If a trusted agent is filing an application for company formation in Serbia on your behalf, he or she shall have a proxy. After filing the application, you have to pay the state duty. Click the 'calculate duty' icon, and then the 'pay' icon. The receipt will be sent to the email address that you will have indicated.
5 Wait for application approval
Your application will be processed within 5 business days. If you have done everything right and you comply with all the requirements, your application for company formation is going to be approved. If a certain document is missing, you will be asked to supply it. If the Registrar finds that you are violating a law, your application will be rejected.
6 Register you company with the Government agencies
When your application for company formation is approved, a tax number will automatically be assigned to your company. You will also be automatically registered with the Social Security Service in Serbia and the medical authorities. Your company will also have to become a member of the Serbian Chamber of Trade and Commerce. If you are establishing a sole proprietorship, you have to join an organization that is a collective member of the Chamber.
7 Open a corporate bank account
Finally, you have to open a bank account for your company with the bank of your choice. You will have to bring the company Registration Certificate, supply its tax number, and signature samples. Please note that different banks in Serbia may have different requirements to the application documents. If you have a digital signature, no company seal is going to be required.
The algorithm of purchasing an existing company in Serbia
One more option that you have if you want to engage in business operations in Serbia is purchase an already existing company instead of starting a new one. Foreign nationals are entitled to do so. The algorithm of buying an existing company can look as follows in Serbia:
1 Make a choice
You have to do market research and find a suitable company for sale. You can look for companies for sale on several Serbian websites.
2 Strike a deal
When you have found a suitable company and agreed with its owner on the price, you have to make a purchase agreement. You have to be present in person to sign the agreement unless you have a trusted agent in Serbia with a valid proxy.
3 Register the change of company ownership
You have to inform the Government agencies specified above about the change of company ownership. If you are also changing the company structure, you should inform the agencies about it too.
4 Open a bank account
You will also have to open a new bank account for the company because its registration documents have been changed.
How much does it cost to open a company in Serbia?
The state duty payable in case you create a sole proprietorship is 13 EUR; if it's a legal entity that you create, the state duty is 50 EUR. The amount of the annual membership fee payable to the Chamber of Trade and Commerce will depend on the type of your company but it cannot exceed 1,578 EUR. Notary services will cost you about 20 EUR per page but much will depend on the notary that you choose. If you have to deposit the company's registered capital, you should take this cost into account too.
Clearly, registering a company in Serbia does not cost very much but the advantages that this move can bring are great. Serbia is on its way to the EU so the country is going to be even more attractive for foreign entrepreneurs in the near future.