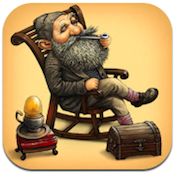 Price: $1.99 Score: 8.5/10 Category: Games
If you want a new twist on the tired "find the hidden object" genre of mobile gaming, then you should definitely check outThe Tiny Bang Story, an beautiful little iPhone game developed by Colibri Games.
Featuring amazing hand drawn worlds and a charming multi-song soundtrack, The Tiny Bang Story is an iPhone game that gets big points right off the bat for creating a lush, inviting gamespace that draws the player in. It's a uniquely realized world that has to be seen to be believed.
After Tiny Planet was hit by a meteor, the world fell apart into a huge number of broken pieces. Now, it's up to the player to rebuild the world. To that end, expect your gameplay to involve fixing a variety of machines and mechanisms, as well as solving puzzles throughout every one of the five chapters. Some of the hidden object hunts seem a bit repetitive, but the game as a whole remains engaging.
Featuring intuitive tap and touch controls, you'll navigate around each location. During your explorations, you'll need to collect puzzle pieces and other info to help rebuild this tiny, detailed world.
There's no text to read, so the story in The Tiny Bang Story unfolds through images alone. That makes it perfect for younger players, as well as for adults who want a completely immersive distraction from the world around them. If you enjoy a good brain teaser, The Tiny Bang Story is the perfect casual game to check out.
With five chapters, 30 mini games, and a richly detailed world, The Tiny Bang Story is a truly exciting iPhone game and really draws players in to a beautifully textured environment that's truly fun to explore, no matter what age you are.
If you enjoy the music featured in The Tiny Bang Story, you can download the whole soundtrack for the game at the Colibri Games website for free.
The Tiny Bang Storyis compatible with iPhone, iPod touch, and iPad. Requires iOS 4.3 or later.A small expedite review was paid by the developer to speed up the publication of this iPhone app review.