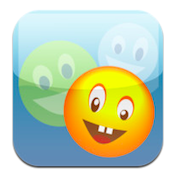 [app id="562872486″]
Time to Smile!is an iPhone app developed by Alek. In Time to Smile!, you will see the best amusing and uplifting content curated from around the web, including the best jokes, funny pictures, anecdotes, quotes, sayings, and more.
You can browse all of the content at once, or choose from categories like Jokes/Funny Pics, Interestingness, Quotes, or Random. Content is easy to share or save for later, and when you get to the bottom of the page, you just hit "show more" to see more amusing pics and quotes.
There are some banner ads, which may annoy some users. But as far as animated banner ads go, these are fairly unobtrusive.
Both English and Russian language sets are supported, making this a great choice for bilingual users, or users who just want to brush up their language skills. Even if you don't speak Russian, or can't read Cyrillic, the Russian section is still worth checking out because it's all different content (and some of it is HILARIOUS just in terms of the visuals alone.)
The content itself is pretty good. There are tons of memes and LOLcats, along with random funny pics, images of amazing natural wonders, celebrity quotes, and more.
If you're anything like me, at the end of the day, you just wanna kick back and relax. I usually hit up Flipboard before bed to unwind, but Time to Smile! may just be the timewasting app that replaces it. If you need a new way to get a constant stream of cool content, Time to Smile! is a great resource for funny and uplifting images.
SCORE: 9/10
Time to Smile! is compatible with iPhone 3GS, iPhone 4, iPhone 4S, iPhone 5, iPod touch (3rd generation), iPod touch (4th generation), iPod touch (5th generation) and iPad. Requires iOS 4.3 or later. This app is optimized for iPhone 5.