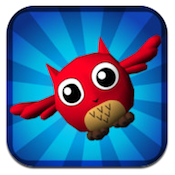 Price: $0.99 Score: 9/10 Category: Games
You must be bird-brained if you haven't noticed a trend in iPhone games: more and more of them include adorable cartoon birds as their protagonists. Here's an iPhone game that's definitely not for the birds:Tiny Owls(developed by games2be).
Tiny Owls is tons of fun, thanks to a combination of fun graphics and simple (though still challenging) controls. You play as a bright red momma owl with just one goal in life: fly through each level and reunite with all your missing baby owls.
The controls in Tiny Owls couldn't be simpler: tap the iPhone screen to pump your wings and soar upwards, and tilt your phone from side to side to steer. But beware of touching the walls, or falling into the water, because then you'll have to start the level over again.
Oh, and did I mention the monsters? Because, yeah…MONSTERS. Very cool. Is it just me, or does that giant crab look as delicious as it is menacing?
The combination of tilt and one-touch controls works very well, and provides the perfect balance of ease of use and challenging gameplay. And with 60 levels with every-increasing complexity, you'll find there are plenty of places for you to hone your skill.
Each and every level environment in Tiny Owls is beautifully rendered, and feels like a ton of fun to explore. The colors are outstandingly vibrant, and do a lot to make Tiny Owls as a whole feel fabulously immersive.
Whether you're a casual gamer who might only play a level or two at a time, or the kind of gamer who likes to sit down with a game and beat the whole thing in one go, the Tiny Owls iPhone game is absolutely worth checking out. It's got responsive controls, adorable graphics, and great environments. What more could you possibly want?
The iOS version ofTiny Owlsis compatible with iPhone, iPod touch, and iPad. Requires iOS 3.2 or later. A small expedite fee was paid by the developer to speed up the publication of this iPhone App Review.

Learn more about the Android version of Tiny Owls here.