Apple is notorious for the shiny metal backs on the iPod line of products. While this backing certainly makes the device look nice, it tends to scratch over time. If you'd like to avoid this, you may want to pick up a case for your iPod Touch.
While there are plenty of cases available for the iPod Touch, not all of them are worth the investment. Below I have crafted a list of the top five cases available for the iPod Touch.
1. Speck Candyshell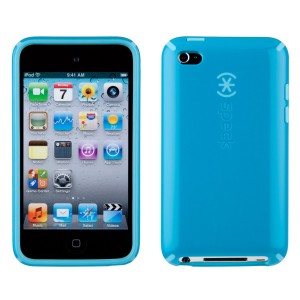 The Speck Candyshell is a hybrid style case for the iPod Touch 4th gen. This means that the case features two different types of materials in one case. Speck has decided to use a rigid plastic material on the outside and a soft, flexible silicone material on the inside. This provides stellar drop protection and a great feeling in the hand. The silicone also offers easy installation and removal of the case, making it perfect for anyone who tends to switch cases often. Finally, the Speck Candyshell comes in a plethora of colors and is available from Speck's website.
Price: $34.95
2. Switcheasy Colors
Coming in nine vibrant colors, the Switcheasy Colors case is sure to fit anyone's personality. This case is made out of silicone which has a high quality feel. This case also features a "jelly bean" home button cover. This means that the home button is raised off of the case and is a different color than the rest of the case. This gives the Colors case a classy two-tone look. Lastly, this case comes with a bunch of accessories including two screen shields and two sets of port protectors. You can purchase this case on Switcheasy's online store.
Price: $14.99
3. Incipio Microtexture 
The Incipio Mictotexture case features a durable TPU material with a unique texture on the back of the case. TPU is a stretchy material which is very resistant to lint and dust. This is useful for those who store their iPod in their pant's pocket where a silicone case is prone to picking up pocket lint. The Mictotexture stays true to it's name by featuring a unique texture on the back of the case, giving it a very comfortable feel when held in the hand. You can pick this case up on Incipio's website.
Price: $19.99
4. Case-Mate Barely There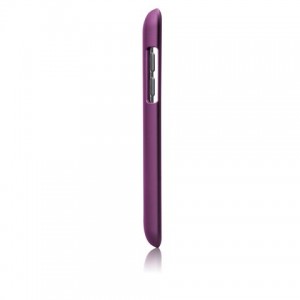 Measuring in at only 1mm, the Case-Mate Barely There case is sure to show off your iPod's thin form factor while keeping it scratch free. The only downside to this case being so thin is the fact that it doesn't offer much drop protection. This is because it doesn't cover the front edges of the device, which will likely crack if dropped. Finally, this case comes in a variety of colors from black to purple. If you like this case, pick it up on Case-Mate's online store.
Price: $25.00
5. Griffin Technology Elan Form View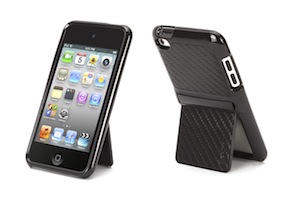 Attention movie lovers: the Griffin Elan Form View is for you. This case offers two different stands: vertical and horizontal. This provides perfect viewing angles for videos as well as other content. The case itself features a luxurious, carbon fiber material on the rear of the case. This provides a comfortable feel in the hand and an overall sturdy build quality. Currently, this case is only available in black. If you like this case, you can purchase it on Griffin Technology's website.
Price: $29.99
Thanks for reading our iPod Touch 4G case roundup. Stay tuned for future accessory roundups for other iOS and OS X devices. In the comments, let us know what case you have on your iPod Touch.