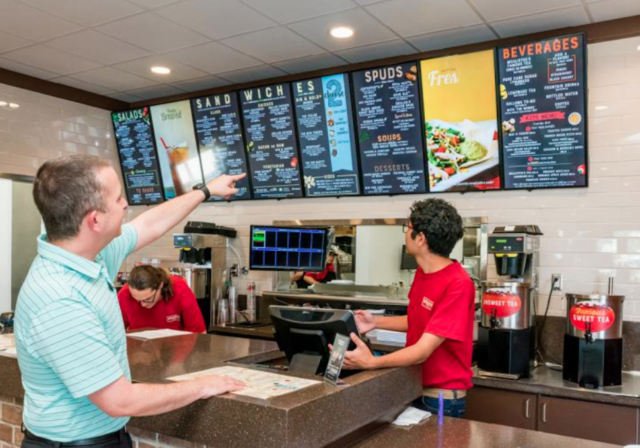 Digital menu boards are quickly spreading like wildfire in the Quick Service Restaurant industry. It has helped restaurant owners improve their operations while boosting sales among other things. Are you skeptical about adding a digital menu board to your restaurants? These four benefits might just shift your mind in the right direction.
Display Marketing Contents
A Digital menu board allows you to display your marketing content to customers. With this high-end technology, you can present graphics, videos, and texts at the same time. This will definitely grab the attention of your customers. It makes it easier for customers to be aware and try out new menus. You can promote your latest food items without any additional marketing and highlight your specials with a digital signage menu. Remember to use more pictures and fewer texts. This way, it is not counterproductive. Customers don't have to read a bunch of words before picking out their orders. Let the pictures do the talking.
Likewise, you can create and manage content in a simple but effective way. Digital menu boards make providing services in restaurants simpler. It poses a simple method for restaurants to change the information on their menu. By virtue of this, restaurants can stay compliant with the latest laws and regulations.
Save Money and Boosts Revenue
Digital menu boards are a convenient and cost-effective way for your restaurant to be more efficient and communicate with customers. The plus side is that you get to save money on creating new posters and signs. Instead of spending money on prints every time you update your menu or strike something off the menu, digital menu boards are more cost-effective in the long-run. You don't need to employ the services of a designer to do prints or reprint. With a digital menu, you can tweak the menu by yourself cost-free.
Digital menu boards also have revenue-boosting characteristics. You can conveniently introduce your new or lesser-known menu options to customers. You can also enticingly promote specials. This prompts customers to try them out.
Customer Satisfaction
The time customers spend waiting in line is reduced with the installation of a digital menu board. Every customer is already informed of what is available and what is not. They are able to decide before it is their turn in line. This takes care of indecisive customers. This way, they don't cause delays in line. A restaurant that offers multiple or different menus throughout the day can rotate the menu board to only show the available options. You can also easily show the chef's special for the day rather than customers asking for a printed menu first. This makes delivering services easier for both the customers and the staff.
Crowded menus can discourage customers, it makes it difficult to sort through their options and place their orders quickly. These are some of the things that slow down the line in a food business. It can be avoided with the installation of a digital menu board.
Aesthetics
You might be wondering if this is a plausible reason to invest in a digital menu board and yes, it is. It is no news that an aesthetic environment is important to a restaurant and digital menu boards improve the overall appearance of a restaurant. It is what differentiates a high-class restaurant from others. More importantly, it is engaging to customers. Research shows that visual representation of meals is more likely to entice the taste buds of customers. Imagine entering a restaurant and you are welcomed with a photo or a video of their crunchy chicken nuggets and cold drinks coupled with delicious appetizers. A customer will absolutely want a taste of the food. Adding attractive products to your digital menu sells your brand for you. You have the luxury of mixing your content up with entertainment and value-added contents like interesting facts and trivia. It gives customers a reason to focus on the screen while you slip in some promotional content or adverts. This helps relieve stress and entertain them while they wait in line.
At this point, you have to agree that it is time to switch from static menu boards to digital menu boards.