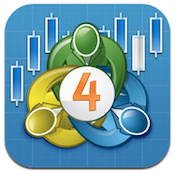 Price: Free Score: 9/10 Category: Finance
iPhone app reviews are a tricky thing. Sometimes, an iPhone app that you don't like initially will grow on you over time, or an app that you liked when you first tried it might reveal its flaws in the weeks after you hit the 'buy' button.
A great example of this phenomenon was explained by Steven Hyden, a music reviewer for The AV Club who had the arduous task of submitting his review of Radiohead's album "The King of Limbs" three days after its release and eight days after the record had been announced.
"In reality, there's always that one review (only one if you're lucky) you'd write differently with the benefit of hindsight," he wrote.
To that end, we're taking a second look atMetaTrader 4, developed by MetaQuotes Software Corp.MetaTrader 4 lets you trade with any of the 350+ Forex brokers that use the MetaTrader 4 trading platform.
We reviewed MetaTrader 4 earlier this year, and gave it a 9/10. One thing we didn't like was the lack of bells and whistles that make it easy for beginners to comprehend that massive amount of data you are inundated with. However, we did really like the easy-to-follow trading history, as well as the whole host of chart types and time-frames available for tracking.
So, how does MetaTrader 4 stack up after some time has passed since our original review? In a word: brilliant. It's still just as deserving of a 9/10 as it was before.
The latest version (Version 4.0.427) added language support for 10 languages (including Russian, Arabic, and Chinese.) Also new in this updated version are push notifications from the desktop terminal and MQL5 community services. A number of other bug fixes have also been done.
MetaTrader 4 for iPhone lets users trade currencies with any of 600+ servers of brokerage firms that use the MetaTrader 4 trading platform. While all of the indicators and data may be overwhelming to someone who is new to the market, this robust app is the perfect choice for experienced traders.
Note: If you like MetaTrader 4 for iPhone, you may also want to check out MetaTrader 5. While the interface is improved over MetaTrader 4, MetaTrader 5 isn't really all that different. However, both are worth checking out if you want to weigh your options for Forex trading on the iPhone.
MetaTrader 4is compatible with iPhone, iPod touch, and iPad.Requires iOS 4.0 or later. A small expedite fee was paid by the developer to speed up the publication of this iPhone app review.
MetaTrader Reviews Previously Published on Tapscape:
MetaTrader 4 Helps You Master the Forex Market From Your iPhone
Trade Forex on Your Android Phone with MetaTrader 4