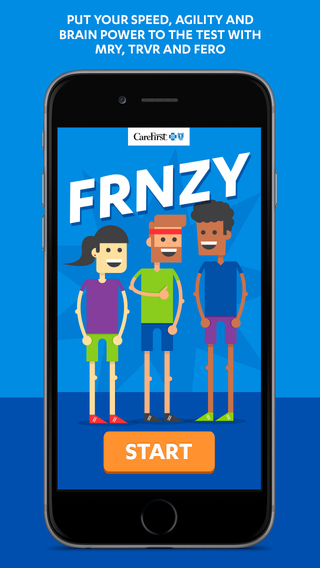 [app url="https://itunes.apple.com/us/app/frnzy/id924552115?mt=8″]
FRNZY is a collection of mini-games centred around brain training and improving your mental elasticity. It"s available on both iOS and Android platforms and offers hours of fun and stimulation in one of the better looking apps that has come across my desk in the past year.
Late last year Apple announced it"s best iPhone apps of 2014 and taking out top spot was the brain training app Elevate. This announcement has seen a marked increase in the number of brain training apps being released. So how does FRNZY go in this now overwhelming genre?
FRNZY: Brain training or time killer?
As some point we need to draw a line in the sand as to when an app full of mini-games is classed as a time killer or a scientifically proven brain trainer. Apps like Lumosity and Elevate certainly lean more to the side of an out-and-out brain trainer.
With FRNZY you have a number of different games and levels presented to you. As you progress through the short games, they will get faster and ultimately harder. I liked the controls for some of these levels, some of the games will see you:
Tapping out a memorized sequence of events
Tilting your phone to land objects in certain areas
Dragging to find missing objects
As you work through the levels you will earn points, tokens, achievements and trophies which you will then be able to share to all of your friends through various social media channels.
Having spent the last few days playing with FRNZY in my down time, I feel it"s a more loveable version of Lumosity. Offering all of the fun and stimulation without the pretentious claims to make you a genius on par with Albert Einstein.
FRNZY"s great fun design
This app is easy to love because it doesn"t take itself too seriously, a lot of credit has to go to the design for this. The overall design is a great combination of bright, clean and colourful without being too over the top.
The mini games themselves are definitely enhanced by this playful design. The first three games I played were:
Tap the slouching potatoes on the couch
Memorise a casino online sequence of bouncing balls and replicate the sequence
Select the right answer to a basic maths question.
These fun levels get more complicated as the game goes on but never to the point of "flappy bird impossibility".
FRNZY takes control for you
My only criticism of this app lies with it"s user experience. I loved the architecture of Elevate, it"s very easy for you to navigate around the app and choose which tasks you want to complete. FRNZY does all of the decision making for you, jumping from game to game without any control. You only have to decide when to start.
It"s definitely not a deal breaker but when thinking back to whether or not to class this as a brain trainer or a time killer, I think this lack of navigation puts it in the latter genre.
A great time killer with looks that could kill
So it"s definitely a time killer, great for when you steal a couple of minutes of "you time" but in terms of brain trainers, it lacks some of the fully blown functionality of others. The design, games and the overall feel of the app make it an absolute pleasure to play with. so download it and give it a go!
FRNZY is available on iOS and requires iOS 6.0 or later and is also available on Android versions 2.2 and up.