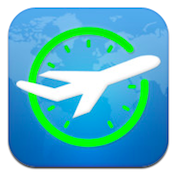 Price: FREE Score: 8.5/10 Category: Travel
I'm not sure who first started the trend of "Hey! Let's make our online service/app look cool by dropping random vowels from the name!" You're already well-acquainted with Tumblr, Flickr, and Fathm…so now, here's one more service you should know: Trvlogue, an iPhone app developed by Rohan Kapur.
As played out as this vowel-dropping naming convention might be, Trvlogue does offer some pretty cool features for its users. This handy travel app is designed to help you track your flight information. It also helps you to see your air travel in a fresh new light.
The coolest feature, in my opinion, is the miles tracker, which lets you see how many thousands of miles you have flown over the years. Not only does it track that info, but it puts it into perspective with interesting tidbits, such as the number of times you've "flown around the world" or how many trips to the moon you have made the equivalent of.
Beyond the cool miles tracking service, Trvlogue also helps users get vital info about their destination. This info includes general knowledge about the area, currency conversions, and even translations for some basic phrases. You can save this info so it is available to read offline, which is quite a smart thing to do.
For any frequent flyer out there, Trvlogue is an app that's definitely worth a peek. It may not tell you how many hours of your life you spend waiting in airports, but it does bring back some of the excitement that air travel has lost in recent years. This is a handy travel app, with plenty of entertaining and useful features.
Trvlogueis compatible with iPhone 3GS, iPhone 4, iPhone 4S, iPhone 5, iPod touch (3rd generation), iPod touch (4th generation), iPod touch (5th generation) and iPad. Requires iOS 5.0 or later. This app is optimized for iPhone 5.