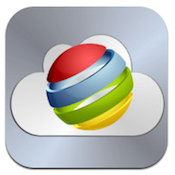 [app id="434541320″]
VirtualChrome is an iPad app developed by Xform Computing. This useful app brings the power of the full 'desktop version' of Google Chrome to your iPad…including Flash, Java and other extensions.
If you love sites that are filled with hilarious Flash videos, you're probably bummed out that the iPad simply doesn't play nice with Flash. The reason dates back to the Steve Jobs era. Jobs argued that Flash shouldn't be supported on the iPad because it lacked full support for touch screens, and it also created security issues. Plus, it absolutely ripped through the battery.
There is a lot to like here, but there are some annoying issues that plague VirtualChrome. For one thing, scrolling down the homepage of content-heavy sites like Yahoo or CNN isn't well-supported. Under these circumstances, VirtualChrome has a tendency to run really sluggishly. Scrolling down the page is a choppy proposition, and it's quite frustrating.
The keyboard feels a bit clunky as well, and those used to browsing with Safari will likely miss little touches about surfing the web with VirtualChrome. The URL address bar is worth pointing at: it takes much longer to delete text here than on Safari. While VirtualChrome is good for browsing, it still needs some improvements with the keyboard.
The developer of VirtualChrome notes that the app is perfect for Chrome users who want to experience Flash, Java, and Chrome extensions and apps on the iPad. In that respect, VirtualChrome is leagues ahead of other iPad browsers.
The tradeoff is that its run through a virtual system, thus there is some latency with gestures. However, VirtualChrome is able to load most "complex" sites faster than Safari. And the developers are aware of the lack of smooth scrolling, and are working hard to improve that aspect of the app. There are big updates coming soon, and so VirtualChrome is well worth keeping an eye on as it matures.
The Video Mode button is one of the coolest features in VirtualChrome, and one of the features that the developers are most proud of. Make sure to give it a spin!
Bottom line: if you want to play games like Runescape, Mafia Wars, and Evony on your iPad, or play around on sites like American Greetings and Jibjab.com, you simply must download VirtualChrome. Just be prepared to upgrade and pay for the privilege of doing so. VirtualChrome is $3.99 to download, but requires $14.99 to upgrade to a full version with unlimited Java browsing.
SCORE: 8.5/10
VirtualChrome is compatible with iPad. Requires iOS 4.2 or later.