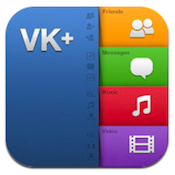 Price: $0.99 Score: 9/10 Category: Social Networking
VK+ Pro Audio and Video Player is an iPhone app developed by Moche Apps Unlimited. If you love VK.com, then this handy app will enrich your user experience.
For those of you who may not be familiar with VK.com, here is a brief primer. Founded in 2006, VK is the largest European social network with more than a 100 million active users. It is particularly popular among people who live in former Soviet countries, especially Russia, Ukraine and Belarus. It is also very popular in America (though not as popular as Facebook) and in Israel.
VK+ Pro Audio and Video Player has recently been updated to be compatible with the iPhone 5, and the new version also plays nice with iOS 6. As you would expect with this kind of social networking app, you can chat with people on your friends list, as well as view audio and media content from your VK.com page.
The VK+ Pro Audio and Video Player app is slick and thoughtfully designed throughout, but it really shines when listening to audio files or streaming video. It just looks darn good. The ability to save files to your phone so you can listen to them later, offline, is a nice touch.
If you've been suffering from Facebook fatigue, maybe it's time to check out a new iPhone social networking app. And with such a focus on sharing songs and videos that have been uploaded by users, this media-rich social networking app may just be the app you've been looking for. Even if you don't live in a country where VK is super-popular, try this app and be ahead of the trends with your group of friends.
VK+ Pro Audio and Video Playeris compatible with iPhone 3GS, iPhone 4, iPhone 4S, iPhone 5, iPod touch (3rd generation), iPod touch (4th generation), iPod touch (5th generation) and iPad. Requires iOS 5.0 or later. This app is optimized for iPhone 5.