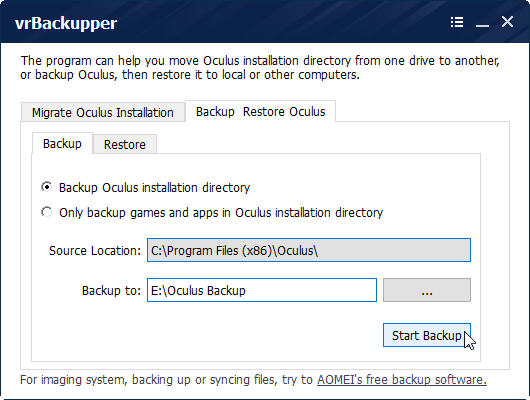 With the development of virtual reality technology, there are more and more companies developed VR devices as well as apps. There are also more and more people like playing VR games. Oculus Rift is one of famous VR products now acquired by Fackbook. Oculus produced many interesting games, apps and attracted many users especially the youth.
However, Oculus Rift has not developed backup app, you have to do backup manually. And there is not backup software for Oculus Rift data until vrBackupper released. vrBackupper is a product of AOMEI Technology. We know AOMEI because of AOMEI Backupper – a full scale backup software. Now thanks to AOMEI and vrBackupper, we get a make up of Oculus Rift, we can enjoy Oculus Rift better.
So, how does vrBackupper work? vrBackupper is a Windows program. Download, install and run it. The default main interface is not Backup but Migrate Oculus Installation. This tool will detect source location automatically too. Under this window, you need to do is choosing a new location and Start Move. Thus you can get enough installation space. This function break through the limitation of Oculus VR games that can only be stored in the installation directory of Oculus and Oculus old versions can only be installed on system partition. You can also transfer Oculus installation directory to external drives, but you have to insert the external drive into computer first and keep its drive letter same every time you use Oculus.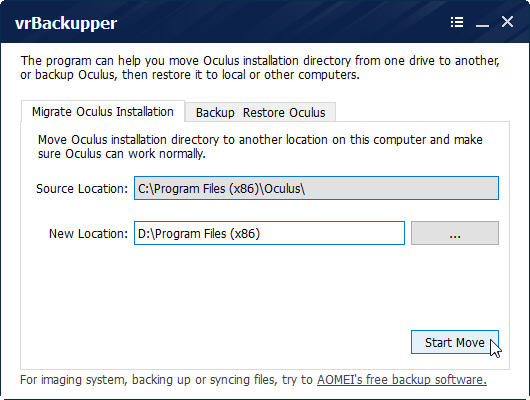 Here, let's switch to Backup Restore Oculus and have a look. Backup has two options: the entire Oculus installation directory or only games and apps in Oculus installation directory. vrBackupper will detect target automatically too, you should browser a destination and then Start Backup. Thus, restoring instead of re-downloading saves time. If you have installed Oculus Rift on a new machine, you can continue your games directly after restoring. Obviously, vrBackupper supports universal restore.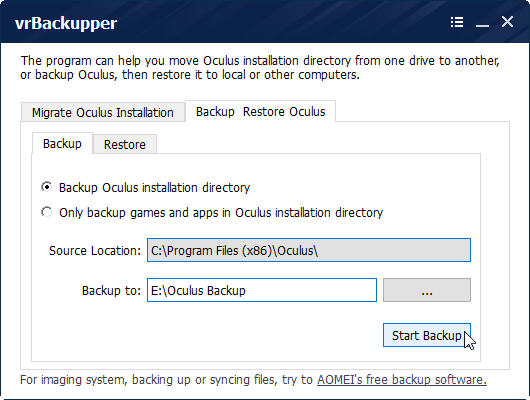 vrBackupper is the only one backup software designed for Oculus Rift so far. And it is a freeware. We think many people may need it. The current version is 1.0. We are looking forward to its upgrade and development. We believe its potential is powerful!