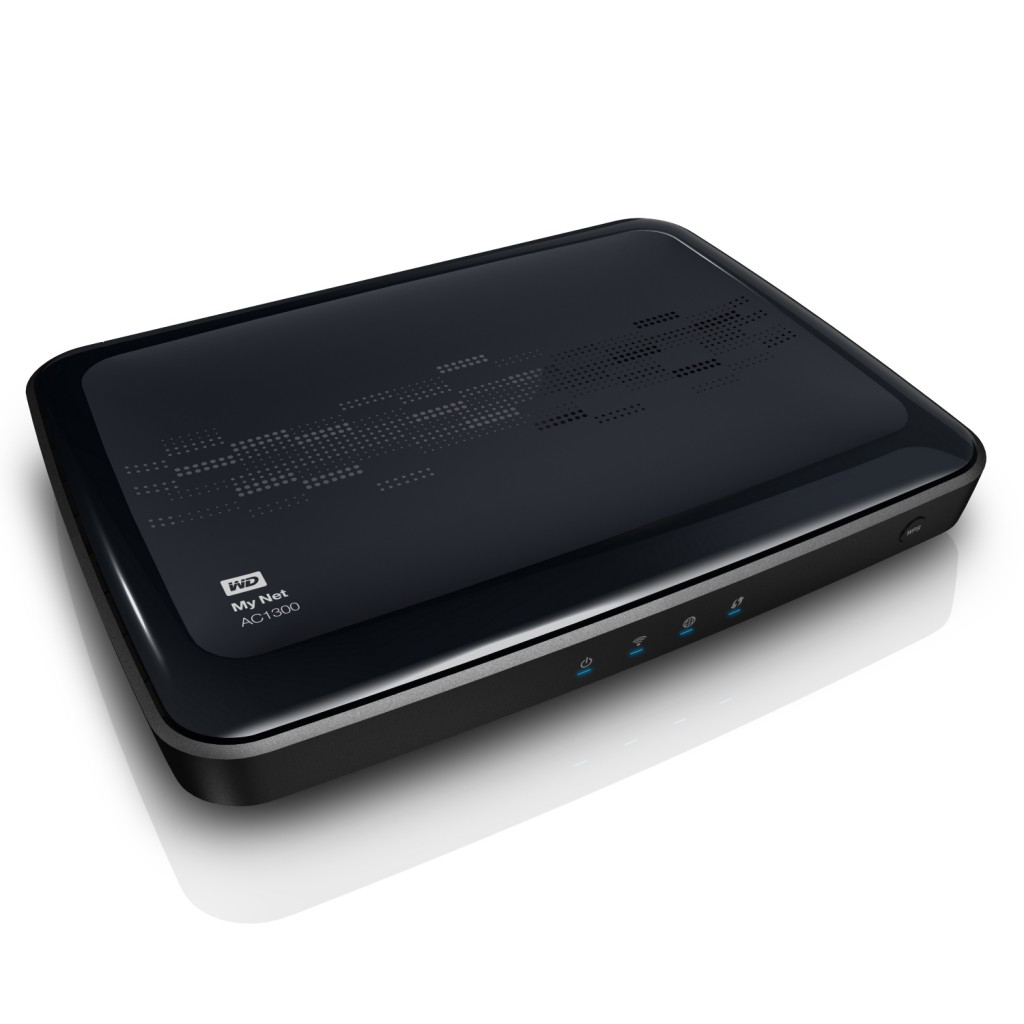 Western Digital is now offering a full lineup of routers with their 802.11ac WiFi router, the My Net AC1300.  While WD does offer a complete lineup because of their latest AC router, the My Net AC1300 is just about average in terms of speeds and features.
Design
There is very little difference in terms of design between the My Net N900 and the AC1300, except for fewer LAN ports being supported on the AC1300.  The router offers four LAN ports, two USB 2.0 ports, a power button, a reset button, and a power connector.
One of the other things that somewhat annoys me about the My Net AC1300 when comparing it to Western Digital's flagship N900 HD, is that it is not wall-mountable.  While speed and UI are both great on the AC1300, when it comes to hardware, it seems as though the router is a slightly stripped down version of the N900.
Setup
Just like with the N900, setting up the My Net AC1300 is incredibly easy and requires just a few steps.
Connect the Router to a power source
Connect the Router to a Broadband Modem via the WAN Port
Go to http://192.168.1.1 after connecting a computer to the Router and then setup the Router (default username/pass are "Admin" and "password")
Features and Web Interface
All of Western Digital's routers come with an amazing web interface for enabling certain features and setting up the router itself.  The My Net AC1300 also offers Fastrack QoS which prioritizes services like YouTube or Netflix to improve speeds through this prioritization.  Outside of FastTrack QoS, the AC1300 also offers a comprehensive set of Parental Controls and support for external storage devices.
The Western Digital My Net AC1300 offers dual-band speeds, with a 2.4GHz and 5GHz frequency band able to run at the same time.  If you have AC-enabled devices, you can theoretically attain 1.3Gbps speed, and if you have older devices then you are still able to utilize a connection speed of 450Mbps on each band (meaning that it will run at the same speed as the N900 in most situations).
FastTrack QoS is definitely one of the few features that separates Western Digital's AC router from other AC routers.  QoS is available on most routers nowadays, but normally requires a tedious manual process when setting up specific rules for various web services and programs.
With FastTrack however, there are four options (Video Services, Audio and Music, Voice and Video calls, and Gaming/Fun) that you can enable and disable easily.  If you want to have more control over specific programs and services, you can enable up to 19 custom QoS rules.
Performance
In terms of speed, the My Net AC1300 performs about average for an AC router, delivering much better speed than any of my previous routers could.  Using SpeedTest we were able to get a download speed of 47Mb/s and an upload speed of 4mb/s, which is above my current ISP plan which technically offers just 30Mb/s down.
Final Thoughts
The My Net AC1300 Router from Western Digital does offer performance equivalent to most of its AC-router competitors; however it does not have many extra features worth noting that sets itself apart from other brands.  If you are looking to future-proof your networking for a fairly reasonable price though, the My Net AC1300 should work great for you.