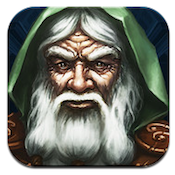 Price: FREE Score: 8.5/10 Category: Games
Woodla: The Tower is an iPhone game developed by Farminers Limited. It is the first in a series of augmented reality games. Your goals: acquire powerful spells, battle evil, and master astral demon beasts.
You're either going to love or hate the opening narration in Woodla: The Tower. I personally dig it, though I'll be the first to admit that the voice of the narrator sounds a bit like Tommy Wiseau (or Skwisgar Skwigelf from Metalocalypse.)
There's a casualness to the high fantasy dialogue and demon-speak in Woodla: The Tower that makes it all the more enjoyable. Woodla doesn't take itself too seriously, making the whole experience a lot more fun that it might be otherwise.
After creating your avatar (by inserting a pic of your face into a creepy hooded costume), you can start using various magic lenses to examine the world around you for "hidden" objects. One player who left a comment on the game's iTunes page said that Woodla was "like fighting monsters in the Instagram!" (sic) It's a fairly apt description, actually.
The sound design is great, and the music is suitably intriguing and epic when it needs to be. There are some minor technical issues here and there, perhaps most notably some Cyrillic text left on buttons that hadn't been translated.
At its core, this augmented reality game is basically a more atmospheric version of your standard "find the hidden object" game genre. However, it adds a dynamic twist by forcing users to use "magic gestures" on the screen to kill monsters that pop up during the hunt for hidden items.
Woodla: The Tower may not be everybody's cup of tea, but it is definitely spook-tastic fun that livens up a boring night at home. If you dig ARGs or hidden item games, give this densely atmospheric title a try.
Woodla: The Toweris compatible with iPhone 4, iPhone 4S, iPhone 5, iPad 2 Wi-Fi, iPad 2 Wi-Fi + 3G, iPad (3rd generation), iPad Wi-Fi + 4G, iPad (4th generation), iPad Wi-Fi + Cellular (4th generation), iPad mini and iPad mini Wi-Fi + Cellular. Requires iOS 5.0 or later. This app is optimized for iPhone 5.
Developer note: The game is optimized for the iPhone 5 and iPhone 4S. You may experience performance problems on earlier devices.