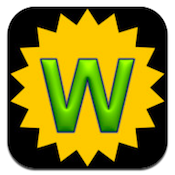 Price: FREE Score: 8/10 Category: Games
Wordistic is an iPhone game developed by mushDevStudio. As letters cascade from the top of the screen, you must click on each letter to create intelligible words and score big points.
If you like word games, Wordistic will be right up your alley. It's very challenging to create words from falling letters, but also immensely rewarding. It's nice to see a word-based title that actually has a sense of urgency to the gameplay itself.
A lot of you readers out there are gonna have a major beef with Wordistic right off the bat. The reason? The design. Everyone has their own taste, but the garish orange color, animated pulsing icons, and font choices combine to make an app that's a bit busy and downright shocking to the eyes.
Sadly the design issues don't stop with the colors. One issue that will plague some players is guessing what each icon does, as not all icons are standard game icons. It's also way too easy to accidentally trigger the pause screen while tapping letters that fall down into the corners. And when you accidentally open that pause menu, you'll be confronted by a cluttered menu that's a bit overwhelming at first.
Some of the features seem unnecessary, such as the "mail" icon on the pause screen, which takes a screen grab from your current game and email it to a friend. I'm not sure when most players would use this feature, other than rare occasions when they spell an impressive (or impressively dirty) word.
Some sub-menus seem impossible to back out of, simply because there is just too much going on. Wordistic has kind of a pseudo-psychedelic thing going on, and it can get really distracting.
I'm torn. Wordistic's design choices aren't to my taste at all, both in terms of superficial things like icons and color, as well as deeper issues like menu and level design. I don't like the way it looks, but dang…I love the game itself. For word junkies looking for a freebie, Wordistic is a must-try title, despite its cheesy, faux-psychedelic look.
Wordisticis compatible with iPhone, iPod touch, and iPad. Requires iOS 4.3 or later. This app is optimized for iPhone 5.