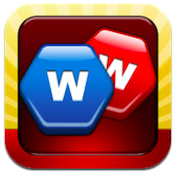 Price: $1.99 Score: 8.5/10 Category: Games
Tired of all the word games you've currently got loaded on your iPhone? Why not drop a couple of bucks onWordsWorth, developed by 99Games Online? This iPhone game is tons of fun!
WordsWorth has about 400,000 players worldwide, so you know 99Games has got to be doing something right. WordsWorth has also garnered some impressive accolades, including a Silver Award from PocketGamer and an Honorable Mention in the Word Games category in the 2009 Best App Ever Awards.
The gameplay couldn't be simpler: drag your finger across a virtual honeycomb filled with letters to create the longest, most point-packed word you can manage.
WordsWorth is tons of fun for solo play, but things really heat up when facing off against other opponents. There's also a fun local multiplayer mode.
But plenty of other word games have multiplayer modes, you're thinking. What could make WordsWorth stand out? Well, for one thing: power-ups! The longer and more complex words you create, the more stars you can collect. These, in turn, get you power-ups. These include the ability to "cheat" and see the best possible word on the board, or the ability to replace letters on the board with a letter of your choice.
Even better: you can look up the definitions of words that have been played, which makes this iPhone word game a good choice for younger players or students looking to bulk up their vocabulary.
The overall design of this iPhone game is a bit cluttered, with more screens than seem strictly necessary between the main screen and the game screen. It's a bit clunky, but other than the visual aspect, WordsWorth is good clean fun for any fan of iPhone word games.
WordsWorthis compatible with iPhone, iPod touch, and iPad. Requires iOS 4.3 or later. This app is optimized for iPhone 5. A small expedite fee was paid by the developer to speed up the publication of this iPhone game review.