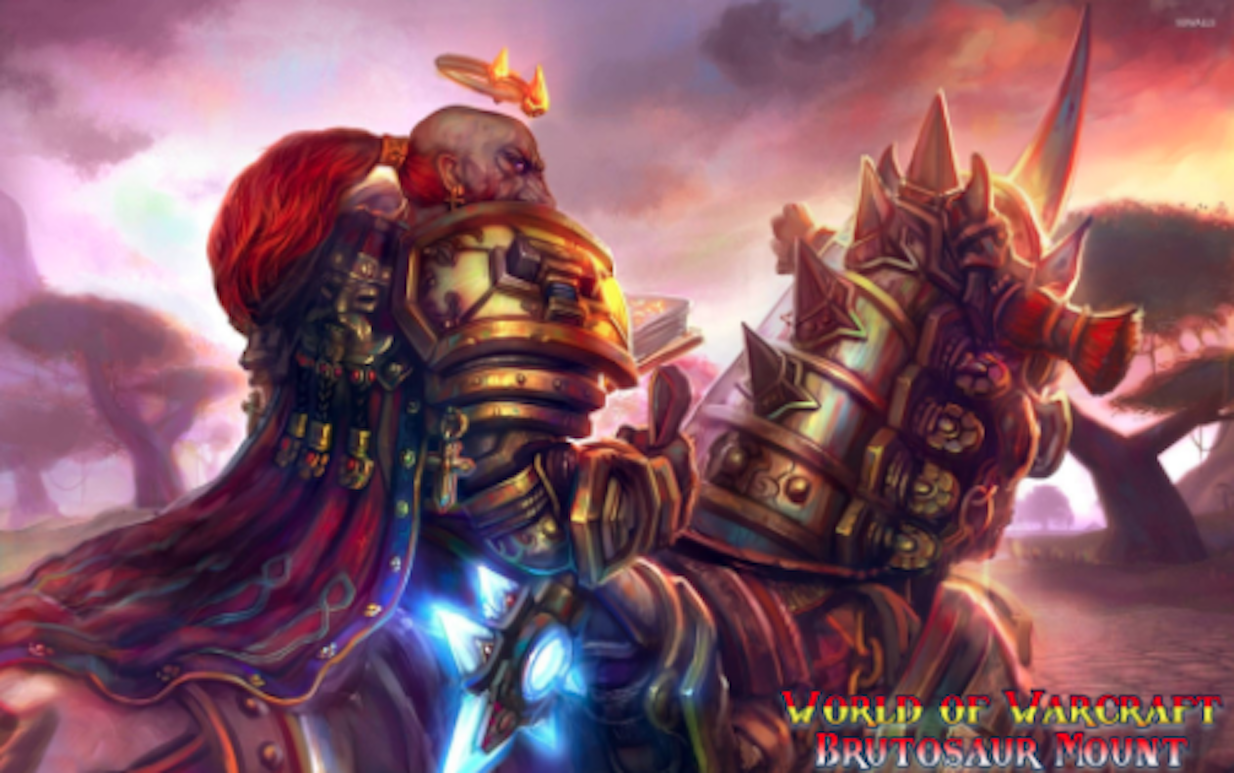 The Brutosaur does come with an eye-watering price tag, so you might want to try these methods instead.
If you have heard tales of the Mighty Caravan Brutosaur, then you've probably come to a conclusion that you are going to have to resort to having to buy WoW gold in order to get one. WoW Mounts, in general, aren't exactly the cheapest thing going in World of Warcraft at the best of times, and the Brutosaur is one of the WoW mounts for sale that will set you back.
How Much Does the WoW Mount Cost?
In general, you can get your hands on a mount for your character for the price range of around $25. This is only a typical price, however, as you then have some renditions that are going to cost you way more. The Brutosaur is an example of one of the more expensive WoW mounts for sale, and in this instance, you are looking at paying around $475 for one. You used to be able to have the option of using WoW tokens that you can purchase for $20. These could then be sold at the auction house to be traded for WoW gold. With this method, you could add the Brutosaur to your mount collection for around 24 tokens.
Nowadays, things are quite different. And unfortunately, it's not for the better since you will need to make even more effort than ever before. The reason being is that this mount would cost over $700 if the tokens cost you $20, since their value is 140,000 gold for individual tokens. With that in mind, if you don't want to fork out a hell of a lot of cash for the sake of a new mount in World of Warcraft, then we are going to have to put in some extra time in order to do so. Thankfully, if you are willing to do so then there is a way in which you can grind your way to getting your very own Brutosaur.
How to Get the Brutosaur Mount
So, if you have read this far, then odds are you don't fancy handing over hundreds of your hard-earned cash to get such a Brutosaur mount. If that's the case, then we are going to need to start making some gold. A useful way of doing so is purchasing materials then selling them on. This way, you can make gold whilst you are AFK as well. This is a rather gritty and grindy way of getting the gold that you need, and it's going to take a lot of your time to do so, but ultimately, it's going to help you get the currency that you require in the long run. Just be prepared to put the time in, because it's going to be a long while before you get the amount of currency that you need.
If you want to consider an alternate route other than flipping materials for profit, then you could always try and use an additional character instead. For example, you could max out a number of characters that would then have accumulated a wealth of WoW gold that you can put towards getting yourself a brand new Brutosaur. This isn't a quick method by any means, however. As a matter of fact, it is really going to take you a long time if you are going to make the amount you need for the Brutosaur this way. You are after all going to need to take into consideration just how long the process is to max out characters in the game to make sufficient use of this method. On the flipside of this, you also need to consider that it will save you spending hundreds of dollars on a single mount. There is also the possibility that this method can't be used following the Shadowlands release, so it may be worth your time focusing on materials instead.
When it does come to WoW mounts for sale, there is no real way around getting some of them without having to buy WoW gold. Unfortunately, the nature of the beast is that mounts are an expensive part of the game, and it is going to take a lot of effort regardless when it comes to certain mounts, but even more so where the Brutosaur is concerned. It comes down to just how much you value this mount and what you are willing to sacrifice in order to get it. You can either buy it outright, or try and find a way around it, so it's a choice between time or money being invested.
Have you got this WoW mount? Let us know in the comments section below!