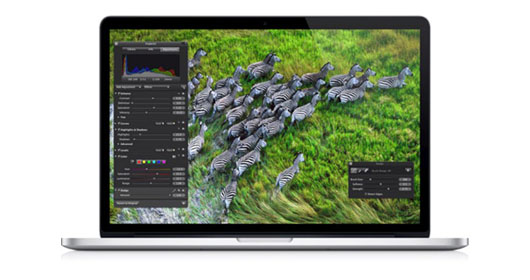 Mac News
Apple Announces New MacBook Pro, New MacBook Air Models
Apple announced long expected Ivy Bridge updates of the company's traditional MacBook Air and MacBook Pro models at WWDC this week. However the big news of the day was the new MacBook Pro with a 2880 x 1800 (a.k.a. Retina) display in an ultra-thin enclosure.
Shipping today, Apple's offering Ivy Bridge updated versions of their MacBook Air: 2GHz Core i7 with Turbo Boost and BTO processor option up to 3.2GHz. There are a pair of USB 3 ports, plus Thunderbolt and Flash storage up to 512GB. Prices remain the same, starting at $999.
Also shipping today, 13 and 15-inch MacBook Pro models with Quad Core i7 processors running up to 2.7GHz (Up to 3.7GHz in Turbo) with integrated Intel graphics. More expensive models include, as expected, nVidia GeForce GT 650M stand-alone graphics.
We also get two each USB 3 and Thunderbolt ports, and pricing for these models remains the same.
15-inch MacBook Pro, Available This Week
The big and surprisingly affordable news is the Retina display 15-inch MacBook Pro. As per rumors of a thinner pro portable, the new model is 0.71-inch thin and weighs perhaps heavy (lots of battery) 4.46 pounds. Resolution comes in at 2880 x 1800 (220dpi) and prices start at $2,199. There is also an HDMI port and battery life comes in at a very, very respectable 7 hours — the inside of the device is dominated by batteries.
There is, of course, no optical drive.
The 17-inch MacBook Pro is gone, history, not to be seen again. If you're really wanting one, refurbished units will be available for years to come — take heart.
The kicker here is that Retina-ready versions of Apple's standard apps ship with the device and updated pro apps, as well as Adobe Photoshop and Quark, are now ready or will be very soon — ass-kicking execution and rollout. And, yes, the new Retina MacBook Pro, starting at $2,100, is shipping today.