The Xbox One has finally been unveiled during Microsoft official Xbox event earlier today. The event was held at the main Xbox Campus and focused primarily on providing all of your entertainment in just one place. It has been nearly eight years since the Xbox 360 launched providing the current generation of console gaming, but the Xbox One is finally here, so lets take a look at what we learned from today's Xbox unveil event. Many of the initial rumors that we had written about the Xbox Infinity ended up coming true, to the surprise of many analysts.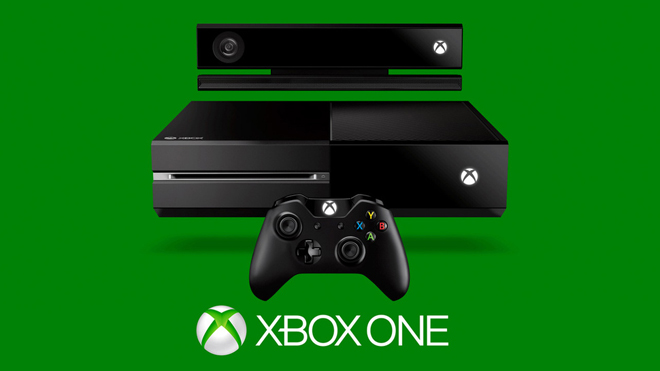 Early on in the presentation, the official Xbox One Unveil Video was shown providing us with a great view of the console and the Xbox One controller. Once Yusuf Mehdi came on stage, things became even more serious with tons of features and specific information being released about the new device.
Xbox One "On" All in One Experience
The Xbox One will automatically recognize its user and log them in without any need for a traditional manual log-in. On the home page of the One, once you are logged in, you will see tiles with one of them being the most recent thing you were playing or watching.
In the next page, you can see what is Trending online whether it be new Movies, TV, or Games. Another swipe to the left will bring up your "Game" page providing all of your installed and saved games as well as your gamertag/achievements information.
Once you say "Go Home" you will automatically return to the original Xbox One start page. Microsoft has also added in Live TV service which can be accessed with other simple voice commands, you can say things like "Go to Internet Explorer" or "Go to Game" to instantly switch to different tasks as well.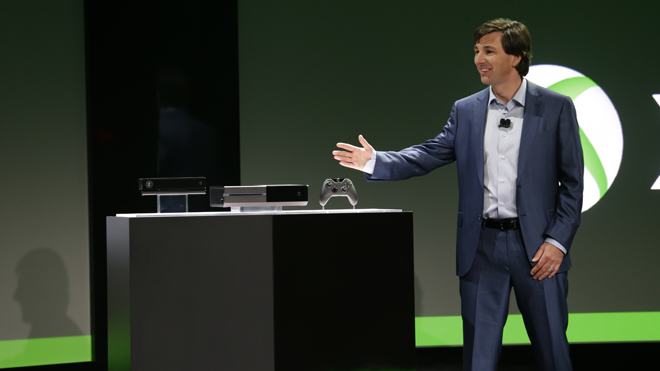 Hand Motion Features
Since the Xbox One includes a built-in Kinect system, you will be able to use simple hand gestures to do things on the console. You can "grab and pan", "swipe up", or spread your hands and then grab to switch back to the start screen. This will allow for incredibly fast switching between tasks, since you can quickly use hand gestures to switch between TV shows, movies, or games.
Snap Mode
Instead of having to actually leave your movie or TV show to look at something such as a Bing search, Microsoft has introduced Snap Mode which allows you to decrease the size of your current task and open up room on the side to search for something else.
Not only can you view Internet Explorer/Bing searches with Snap Mode but you can also minimize media all the way down to a tile on the start screen so that you have full access to anything else on the console.
Xbox One Specs
In terms of hardware, the Xbox One is quite impressive. It includes 8 gigabytes of RAM, a Blu-Ray drive, USB 3.0 connector, and HDMI in/out. Not all of the specs such as CPU clock speed or GPU speed have been released yet, but we can get a fairly good idea from the information that has came out, that the Xbox One will compete nicely against the PS4.
Xbox One Games
Right off the bat, Microsoft announced that FIFA 14, Madden 15, UFC, and NBA Live 14 will be on the console when it launches. Outside of those EA games, there are also some other exclusive titles such as Forza Motorsports 5 that will be available for the Xbox One when it is released.
Xbox One: What We Don't Know
Even though Microsoft released a ton of information regarding the Xbox One, there are still quite a few things that have yet to be announced.
Xbox One Price and Release Date
Even though things like specs and features were announced, Microsoft did not release information about when the Xbox One would be released and how much it would cost when it is.
All current rumors stand true regarding the Xbox One's price, since somewhere between $399 and $499 is still the sweet-spot for launching a console such as the latest Xbox. It is highly unlikely that we would ever see the Xbox One launch at something lower than $399 but there is always the possibility that it could cost more than the $499.
Microsoft repeatedly mentioned E3 during the Xbox One event so an official release date will probably be announced during that event which will take place next month. Until then, I think it is safe to assume that Microsoft will indeed be fully releasing the console by the end of this year and we will most likely see it released between October and December.
Which TV providers will enable Live TV on the Xbox One
The new Live TV features in the Xbox One look awesome and were a big part of the unveil event earlier today, but none of those features will matter if TV service providers don't partner up with Microsoft.
Luckily, Xbox Live already offers Live TV viewing apps for Comcast Xfinity, Verizon Fios, and a few others. Hopefully Microsoft will be able to attain an even broader collection of Live TV viewing apps from different TV providers prior to the Xbox One's launch.