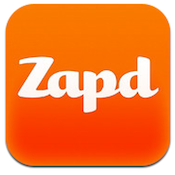 Price: FREE Score: 9/10 Category: Lifestyle
Zapd is an iPhone app that lets you build a website from scratch right on your phone. Advertised as the app that lets you build a site in just 60 seconds flat, Zapd was developed by PressPlane Inc.
Touted as "the original iOS website builder," Zapd has gotten some truly great press since its original release.Zapd was featured in the App Store Rewind list for 2011, and was also an Apple Staff pick of the week. It's also been in the Top 1o apps list in the App Store of 20 different countries from around the globe.
The latest version (Version 2.0.1) has a bunch of new features, so even people who have already tried Zapd in the past should take the time to check it out again. Version 2.0.1 has an eye towards social media: social following is built right in, and there's also a "Zap feed" that is a bit like a Twitter feed (it even includes suggestions for other Zap sites you might want to check out.)
Without question, the coolest new feature with Zapd is the ability to build a Zap collaboratively, which is great for both social and business sites.
One of the best features of a Zap site is the fact that each site automatically reformats itself into the best orientation and size for whatever mobile device is being used to view it. The sites can also be accessed from laptops and desktops as well, of course. It's nice to know that your Zap will look good on everyone's devices, without any headaches on your part.
With a built-in photo editing tool that crops and adds filters, a great library of themes that are being constantly added to, and a very cool concept, Zap is a free app that is definitely worth checking out. Part Tumblr, part blog, and part website, the Zapd interface is easy to navigate, and you really can have great looking content posted in under a minute from your phone. Definitely give this one a try, guys: you'll be pleasantly surprised.
Zapd is compatible with iPhone 3GS, iPhone 4, iPhone 4S, iPhone 5, iPod Touch (3rd-5th gen), and iPad. This app is optimized for iPhone 5. Requires iOS 5.0 or later.